I wondered about having a rabbit print phase.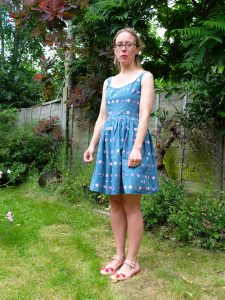 The fabric is Cotton + Steel. No doubt it's quilting cotton really, but it has a lovely soft hand and enough drape for the princess bodice and gathered skirt of the ByHand London Kim dress. I loved the colours (I realised I simply cannot perceive any shades that are not either green, blue, greeny blue or bluey green) and the little story the print tells, which I found interesting without being overly wacky or weird.
Rather than line the bodice, which I felt wasn't entirely necessary with this kind of fabric as it has enough body on its own, I used self bias binding. I ensured that I had taken account of the seam allowances around the neckline and armholes for once. I just stitch marked these, attached the bias and trimmed everything to suit. Next time I will be a bit more sensible and trim *first*, before applying the binding, as at certain points I was dealing with about 5mm of fabric and things got a little hairy. I used pink thread to overlock the hem, and as the bobbin thread when finishing the hem, so a little bit of the pink peeks out. I thought that was a fun touch.
I didn't try too hard to match the pattern as there wasn't enough fabric to get really anal about exactly which rabbit would go where. However, I did mark up where the moons were, and tried my best to ensure that the stripe continues around the body and skirt so there aren't any sudden transitions, or decapitated bunnies. I traced the shapes as a marker onto the pattern pieces to try to ensure everything was in line.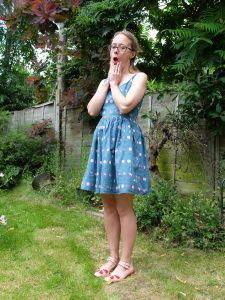 I think I did OK. I made the skirt shorter than I usually have, partly to save fabric and partly because I wondered if a shorter skirt might make me look taller.
Otherwise, Kim is a lovely easy dress to make. I wish I had bunged in pockets, but I was cutting it fine with the fabric as it was, stingy features (me) having only bought 1.5m. I shortened the shoulder straps a bit to stop them slipping and to raise the bodice front. A sweetheart neckline is all very well when one has the bosoms to spill out of it but, well, I really don't.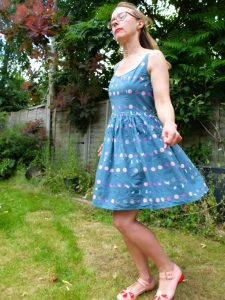 My little niece, who is five, spent a great deal of time trying to work out the story and it kept her amused. I couldn't quite remember the story myself so she made up a better one. In fact there isn't really a story per se, the rabbit in the moon is just the Japanese/Chinese equivalent to the European man in the moon. I thought her story was better anyway, despite the fact that she merrily told me the whole thing while sitting on the loo.