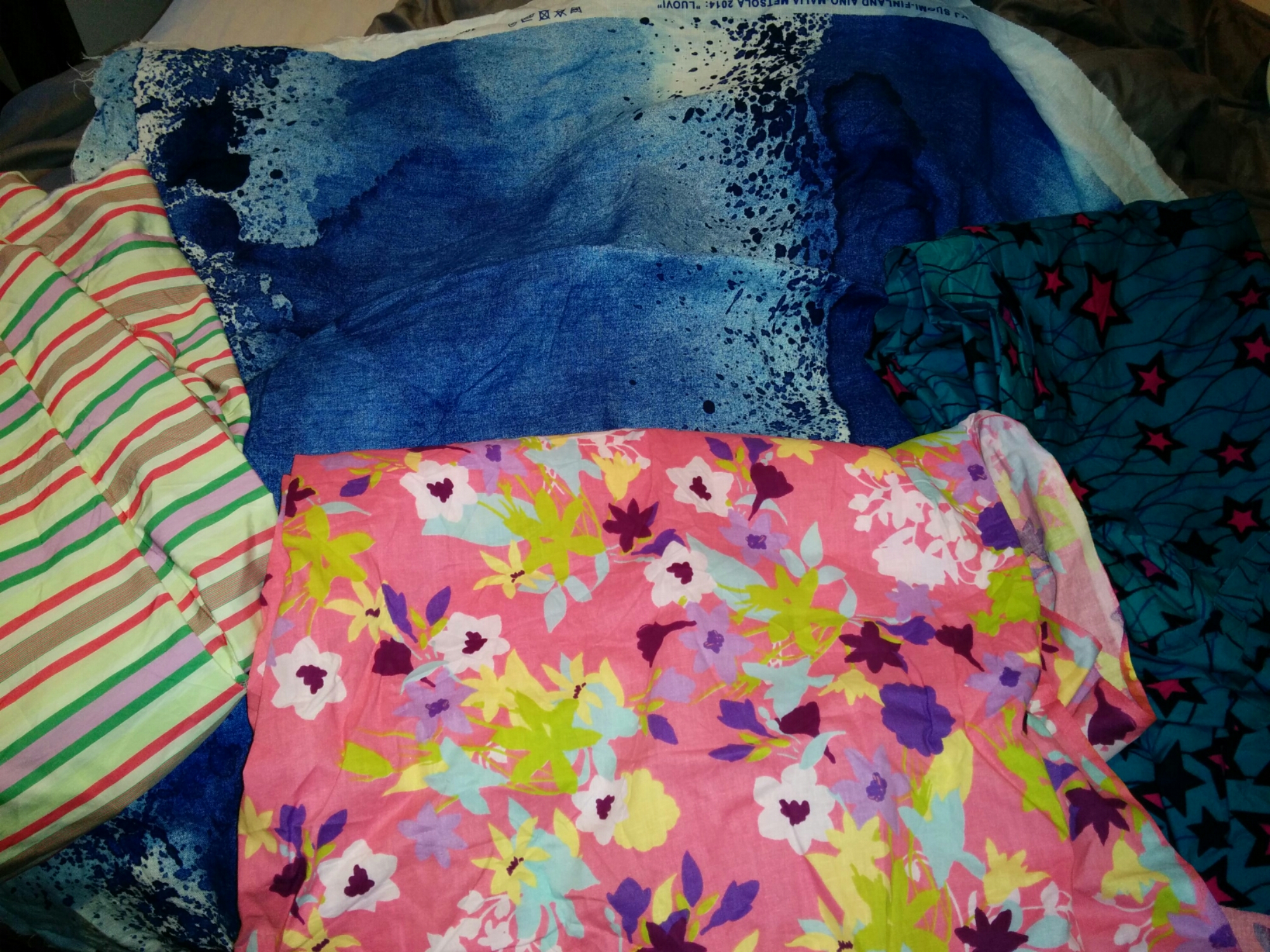 I've read many accounts of fabric shopping trips, either to Walthamstow or Paris. For me, Paris is slightly more accessible than Walthamstow, because I only have to change trains once. It also takes roughly the same amount of time to get from North London to Paris as it does to get to Walthamstow. One of the amusing quirks of London's public transport system I suppose.
So whilst I do have a couple of favourite fabric shops in London (Jersey Vogue in Edgware, Crescent Trading and Empire Fabrics near Brick Lane), and my all time favourite place, B&M Fabrics in Leeds, I don't really go on big sprees. I don't usually have sufficiently large funds in my account anyway!
However, I had a Saturday afternoon in Paris to kill and I took an Uber from Tuileries to Montmartre, where lots and lots of fabric stores are located. I also took my daughter, which was either a sensible or silly decision. I am a bit [meh] about Paris usually, I don't know why people like it that much or mythologise it when, for example, Barcelona or New York exist, but Montmartre is one of my favourite bits.
Our first port of call was Marche St Pierre, a huge, thronged and confusing place, made even more confusing by trying to keep track of a five year old who only wants hot pink sequinned Lycra jersey and then declares that she's made her choice and now we should be going. I would have loved to have perused the fun prints and gone upstairs, but oh well. I didn't buy anything from here. Not even sequinned hot pink jersey. Shamefully, I already have some.
Coupons St Pierre was even more thronged. There are coupons (3 metre lengths), priced individually, but inside and outside the place is a mess, the fabrics a crazed rummage heap of heaven knows what. I did buy two coupons, one of pink striped cotton somewhere between a lawn and a poplin, and a loudly patterned pink one that the girl chose, they were both €5 euros for the lot. Right, she said, we've bought that, let's go home.  I can see why. From her height the mass of elbows, handbags and fabric must have been quite disconcerting.
I persuaded her to go in one more shop – much calmer in here. I bought some wax print (actually wax print rather than Java which I always seem to plump for). It was €4 a metre, not bad going really. And that, I'm afraid, was that.
I can imagine that going on a quiet weekday morning, with plenty of cash in the pocket and without an easily bored and/or lost 5 year old, it's probably a smashing experience, and I am sure rummaging through the piles to unearth a gem is great fun. Still, she saves me money and for that I must be grateful.
I am not usually so vigilant about her whereabouts, but we'd lost her cousin that morning in St Pancras, and whilst she'd only been missing a couple of minutes (and from her point of view, wasn't lost at all, she'd seen her uncle and had run over to him), that feeling stays with you for a while.
Also, when we returned to the hotel (we walked back rather than indulge ourselves with another Uber) we had the fun of making a den with the fabric. How many sprees end with the making of an excellent den? Practically none I expect.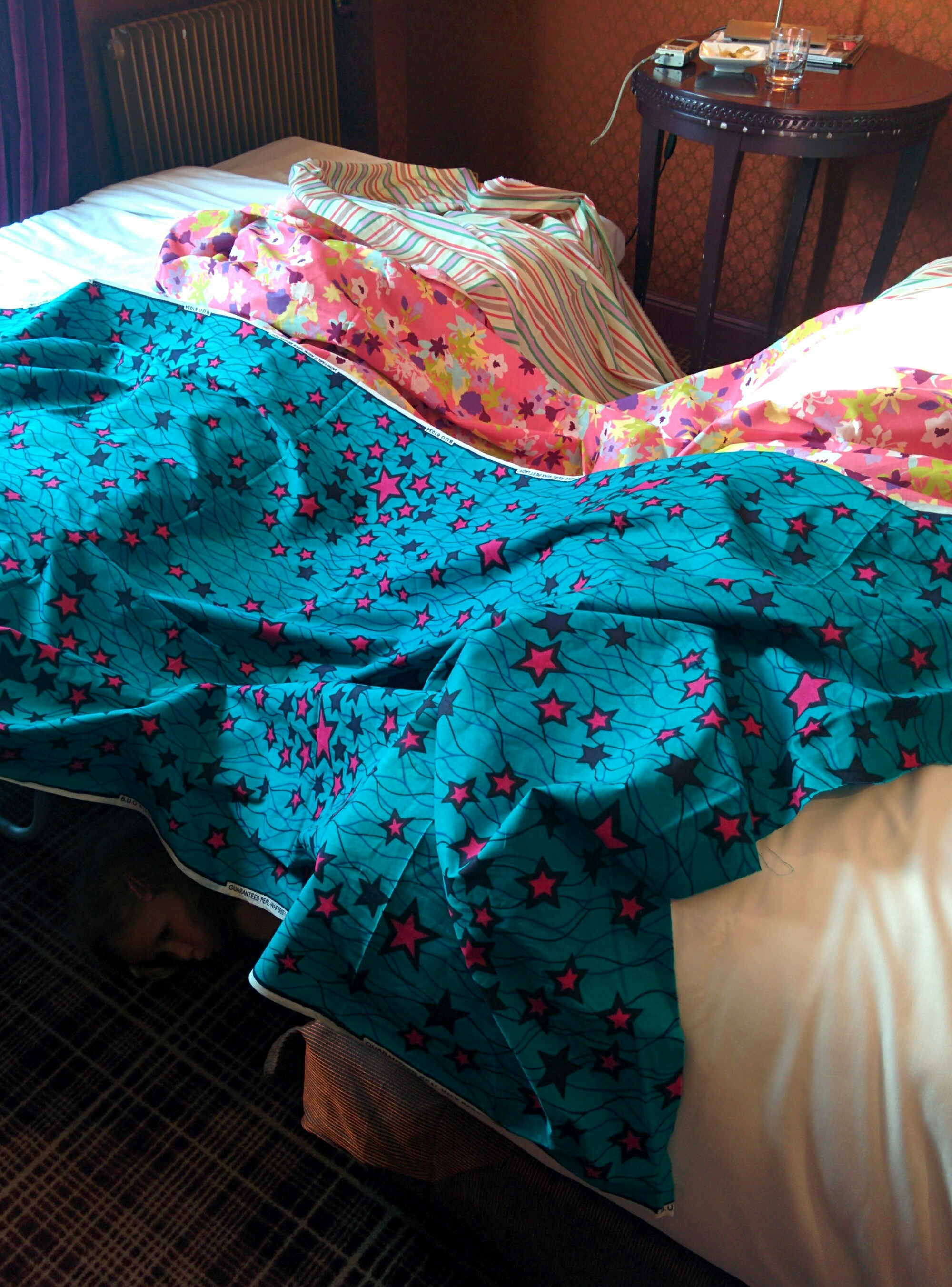 I did have another fabric shopping experience whilst on holiday that was quite a contrast. From Paris we took the TGV to Nice, where we lazed on the beach for a week, and then I travelled alone up to Oslo, for my youngest brother's wedding. He's now an Oslo native, married to a Norwegian, and he had a quick City Hall ceremony on the Friday, which was followed by a formal meal for family.
My sister and I visited a champagne bar that evening and were pleasantly surprised to find that the legendary high prices of Oslo are really not any different from London's. Of course it was a contrast from paying €5 for a large bathtub of vin de pays, but I'm used to paying £7 for a glass of Prosecco, let alone the Moet and Chandon we eventually went for.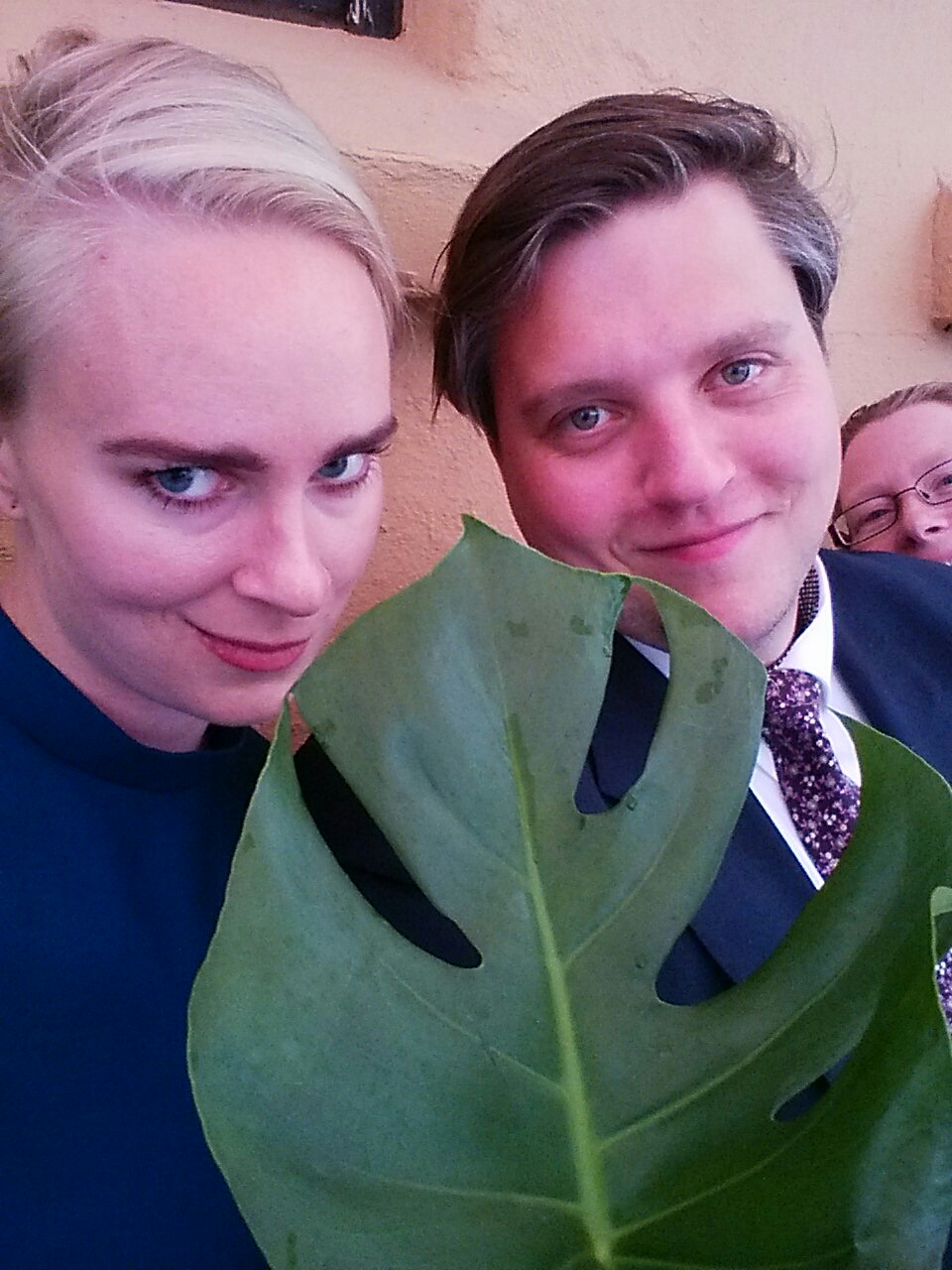 On Saturday evening, the couple had arranged a big party for friends and family, so I had most of the day on Saturday free to amble around Oslo with my sister. We shared a hotel room, but I made a nest on the floor rather than share a double bed with her. Anyone who has shared a bed with Mrs Trumplebottom will understand why. Anyway.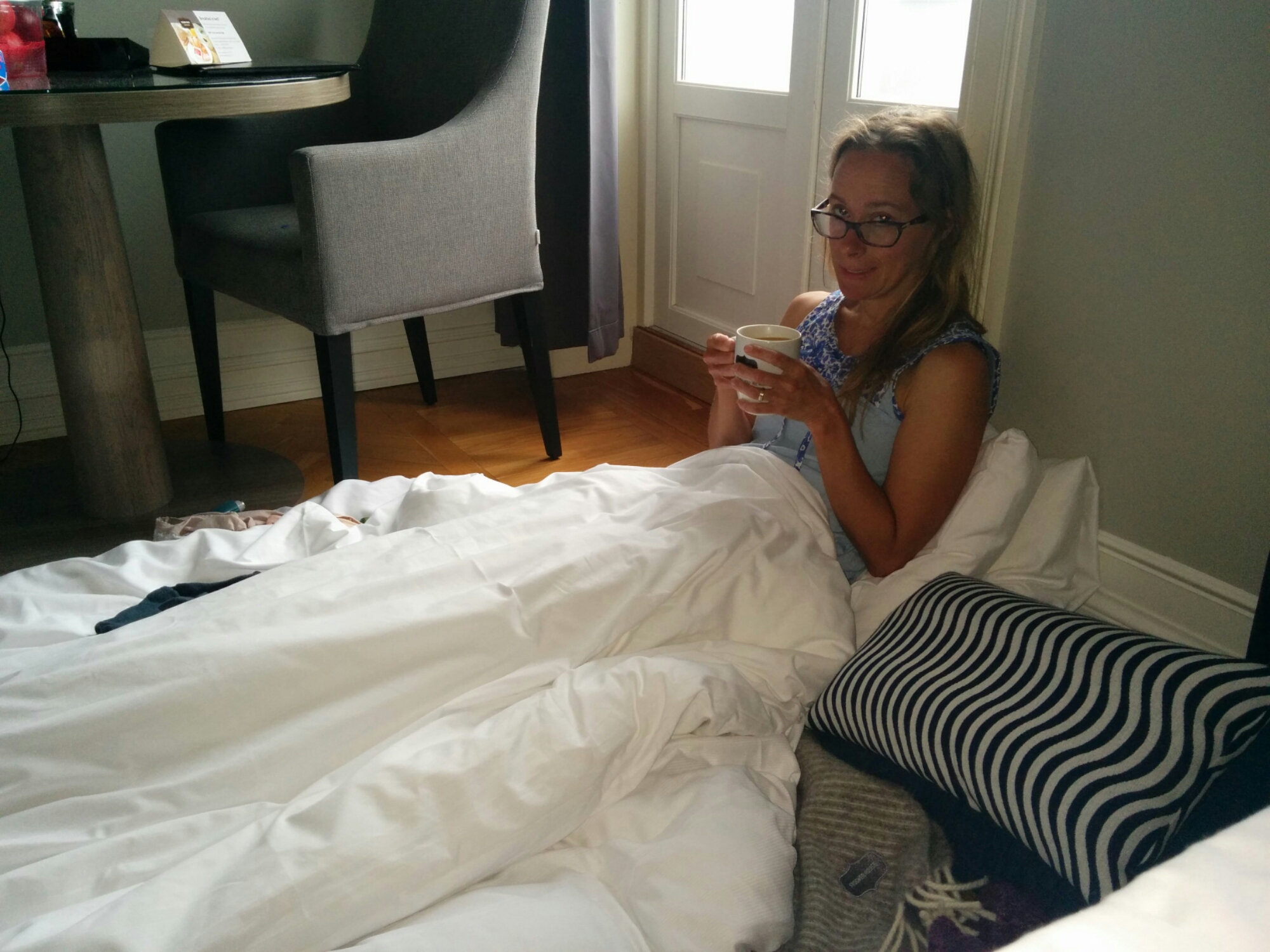 My brother has a job with the Norwegian Salvation Army, who run a large chain of high quality second hand stores in the city, so we went there first. There were some excellent finds, but unfortunately they were all rather too big for me. I would say visit if you're in Oslo, but try to find out which days they get new stock in so you can have your pick.
In a bookstore nearby I bought a book of hair braids inspired by the movie Frozen, containing lots of pictures of incredibly patient Icelandic girls with very elaborate plaits. Oh, I thought, deciphering Norwegian hair braiding instructions can't be too hard – it wasn't really. Thank you, google translate!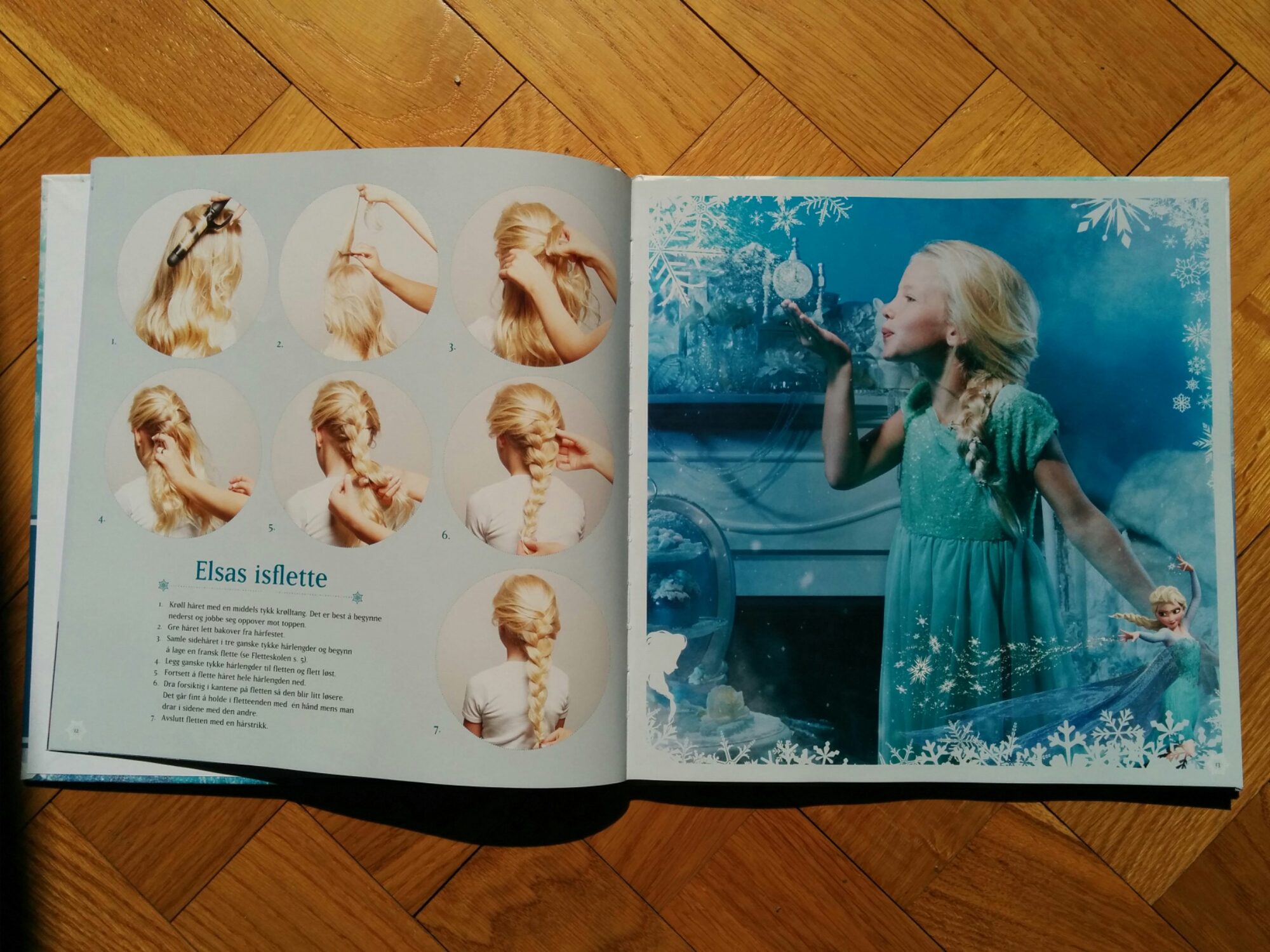 We pottered down to the Marimekko store, in the hip area. Well, I guess it must be hip but I'm not really any judge. A small selection of fabric was on display, but I nearly jumped down the sales lady's throat when she said the linen was on sale. 60% off. Marimekko linen, in Oslo, for under £20 a metre. Eep. I did a sneaky google to check that was a good deal. Yes, it did appear to be. I bought 2 metres.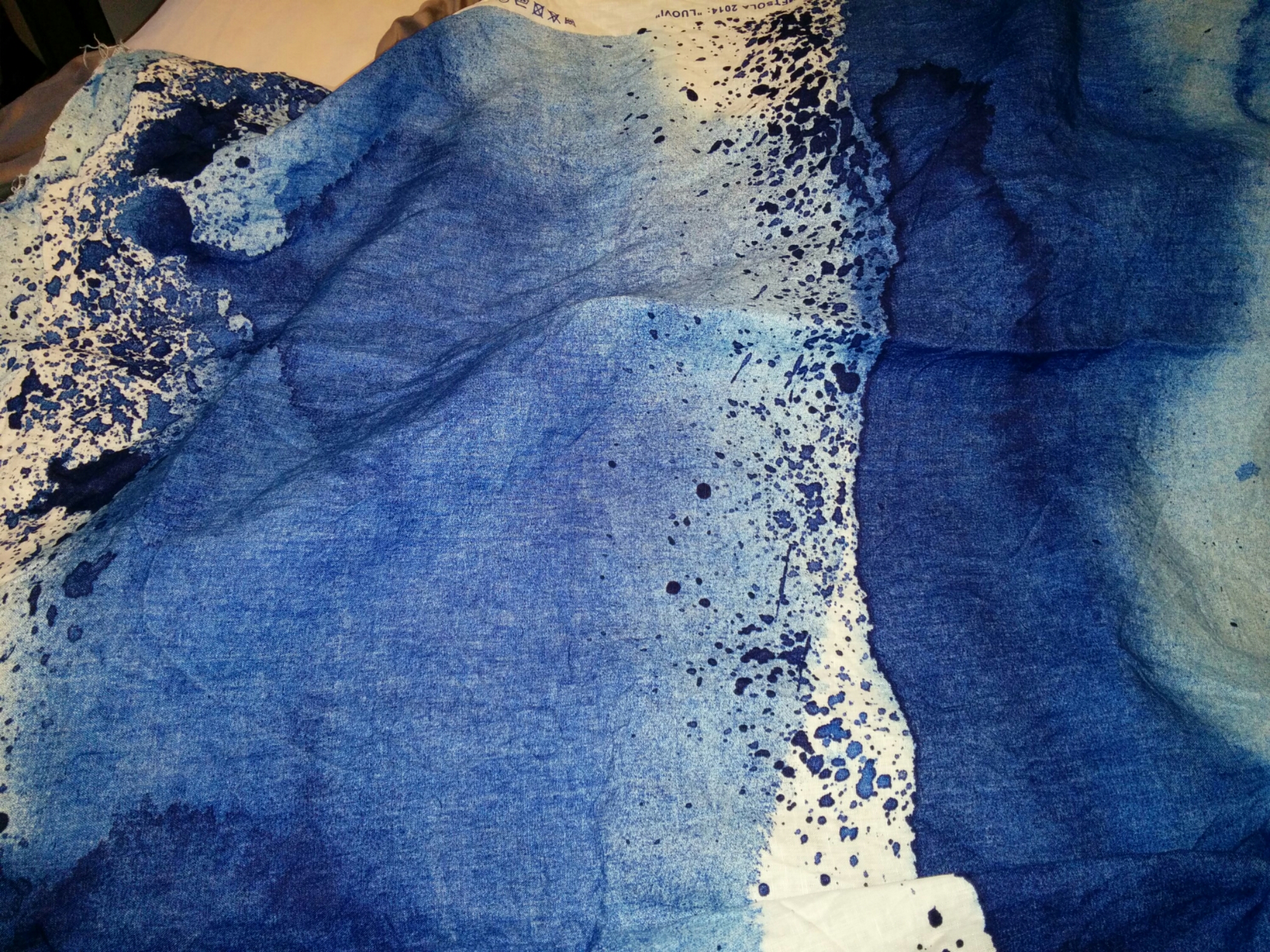 It is worth buying fabric from Marimekko if only for the delightful experience. The sales lady marked the metre lengths with an elegant glass headed pin, before gently smoothing down the fold with a lovely wood ruler, and cutting a beautifully straight line. The man at Jersey Vogue measures by eye, rips, and gives me a bit extra if I am super nice to him. I've never had fabric measured and wrapped so nicely – not even at John Lewis. I did not get any extra.
My sister bought some rather adorable trousers for her son, also on sale. She's on some Facebook group that sounds completely insane, obsessed with all things related to Scandinavian children's wear, and she planned to share her purchase with them and watch the slavering commence. We went for coffee and to stare intently at our purchases.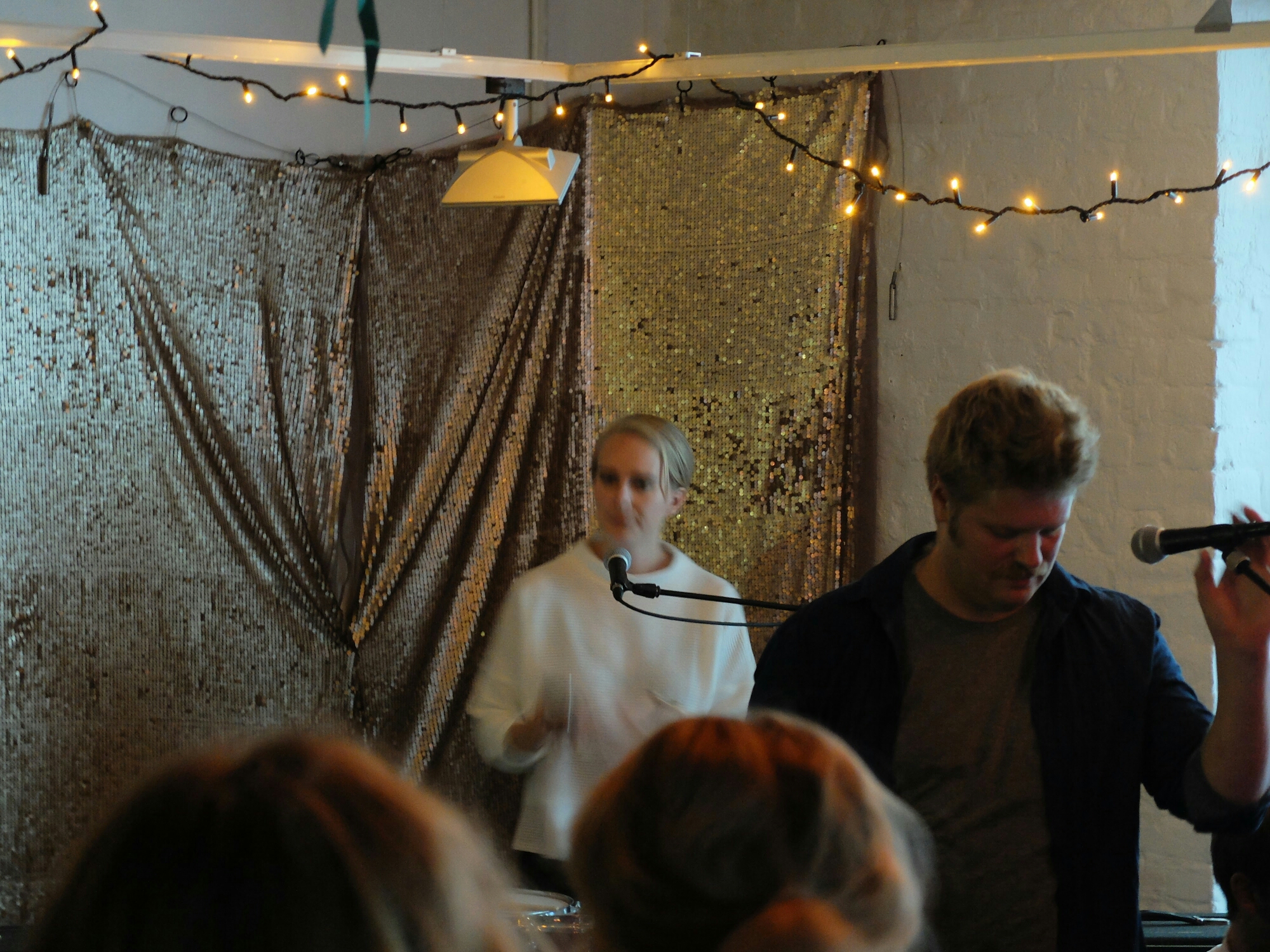 I took a flight back the day after the party and bought a Danish Burda Style, and a Norwegian magazine of a similar ilk. Well. Google translate has been working overtime ever since.