So I made another Dahlia. I was really hoping that this would have slight overtones of Game of Thrones or something, made as it is in a red organic cotton crossweave with silk noil as a contrast on the waist and bias binding. I picture myself as a sort of side character to whom nothing bad happens. Fairly unrealistic I suppose.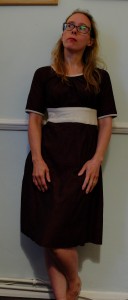 Er. This is what it's meant to look like.
Well as you can see this does not fit at all. It looks completely weird, like I've shrunk in the wash. I am not sure why this happened as I used the same pattern as for the black French Maid Dahlia, which I do wear and which does fit – at least fits better than this does.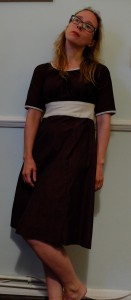 I was so confident that it would work! It wasn't like I hadn't made it before, or not bothered with a muslin. It's annoying for all sorts of reasons, not least that this fabric wasn't especially cheap. Poo. I think, Dahlia, that you and me weren't meant to be. The raglan sleeve design doesn't lend itself that well to my amateur attempts to reduce the real estate around the front. I guess I could perhaps rescue the lower half and at least get a skirt out of the whole disaster.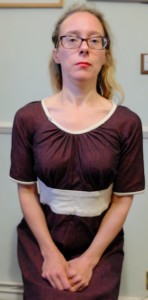 And here, for your further delight, is a sort of odd fitting 6696. It's double gauze, I wish I could say I got a good deal on the fabric but I really didn't, and I wish it had turned out better as a result.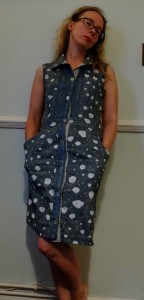 It's strangely lumpy in places and the buttons gape and pull all over the shop. I will add snaps to rein in the gappiness, and may tack down the backiness, but I fear nothing short of major surgery is going to fix this. I did think maybe a self-fabric sash would help to pull it in a little bit and distract attention from Gappytown down the front, so that's probably the first thing to try.
It's a shame, because it's a lightweight, breezy dress with lovely capacious pockets otherwise.