As promised, a bit more detail about the sling I finished last night. It's this one, McCalls' M5678.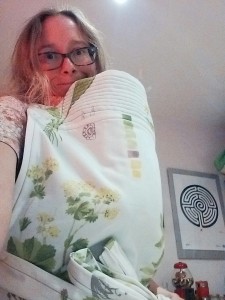 I was thinking about making a gift for my nephew. He was born in the US to British parents and he is visiting, parents in tow, next week. I saw Amy's version and immediately thought this might be suitable.
I made up View B, which is what I'd call a mei tai carrier.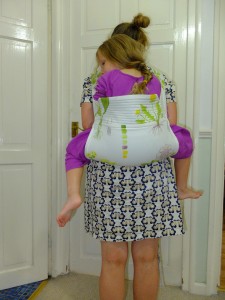 I used home dec weight cotton from Ikea, with a sort of botanical print. This is because the sling is intended for my newest nephew, who is called Moss. I used green fleece for the inside, and found a green cotton sheet on sale there for £3, which I used for the contrast on the inside.
Overall, apart from cutting out several very, very long straight pieces (straight lines are not really my forte), this is a fairly simple make.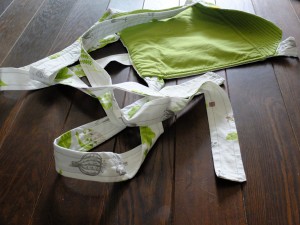 There are no head scratching moments. I double stitched every seam I could for extra security, but as you can see from the photos, it carried a 5 year old without disintegrating so I think it can handle a 3 month old. The major challenge, as it turned out, was needles. I snapped two in quick succession, I think due to forcing them through about six layers of thick fabric. I even used a walking foot but it was still a bit of a struggle. I used emerald coloured thread as I thought it would be a jolly contrast, but it just looks black, and the struggle of getting through all that material meant the topstitching is not nearly as straight and nice as I would like. So jolly contrast topstitching is not something I would recommend unless you have one of those amazing atommic powered machines that can sew through cast iron.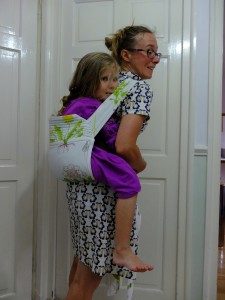 I used to carry the girl in a Baby Hawk mei tai. It was ideal for me, it packed up very small for trips into town when she was almost too old for a buggy but still needed to be carried from time to time. I lent the Baby Hawk to my next door neighbour for a trip away, and when they got back I had a very awkward conversation about its return, realising that in fact my neighbour had thought it was a gift, not a loan, I was terribly embarrassed and that was that for the Baby Hawk. I was never really a habitual baby carrier and because of my small stature, found that most didn't suit me. I wasn't saftig enough, tall enough or broad shouldered enough. I was no goods mule, as I put it. But the mei tai was flexible enough to fit me and the straps distributed the weight very comfortably across my hips.
Apparently you can nurse in these using a front carry. Don't ask me how, I assume you must have to have prehensile boobs.
I also, because I am trying for Best Auntie 2015, made a nappy bag and changing mat. It's not that I don't think they have such things, it's more that it matches and I had the fabric left over. The mat is just some ripstop nylon with Hello Kitty on it that I bought from Plush Addict yonks ago, sandwiched between some fleece and a bit of leftover botanical print and edged with grosgrain ribbon.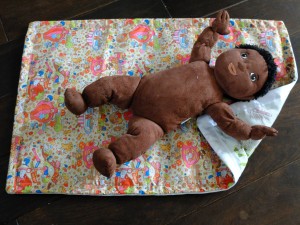 The bag is a messenger bag using this tutorial, a template made of A3 paper and I used leftover fleece instead of batting.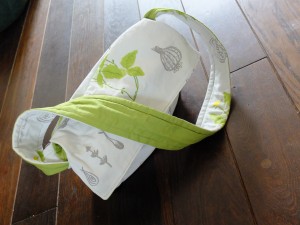 Because I had fleece and absolutely did not have batting.