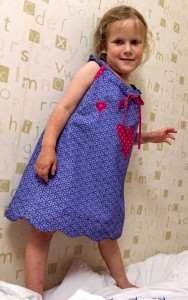 One of the best things about a hobby like this is the community you meet. I swapped some Vlisco Java print (left over from the Super Bright Dress) with a friend, in return for some Sheshwe, which is to South Africa what wax print is to West Africa. It has a similar history – brought in the c19th by missionaries from Europe, and co-opted into traditional attire. However, it's not the same as wax print at all. The process is quite different, as is the fabric. It has a distinctive, pleasant smell and apparently wears beautifully, becoming very soft.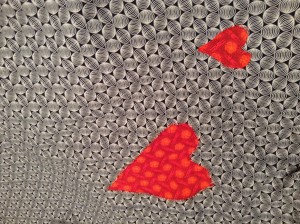 My friend was brought up in Pretoria and my husband is from Johannesburg. I had high hopes that the Sheshwe would send him off on a Proustian reverie, but apparently it wasn't in vogue in Joburg.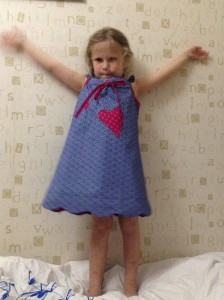 I wasn't disheartened though. I began cutting out an Oliver + S Badminton Dress at my husband's grandmother's. She at least recalled sheshwe.
The girl had the idea of putting a heart on the front, drew and cut out a template and chose the placement. It was her idiot mother that decided now was the time to try out reverse appliqué without referring to any instructions or tutorials, basically working it out from the term alone.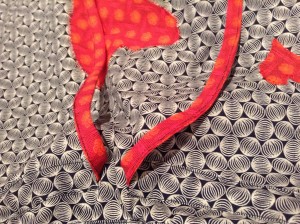 It turned out ok, but it doesn't look very impressive. I think it needs different fabric thicknesses to work properly. The rest of the dress was easy apart from the yoke. This was one of the few garments where transferring the dots from the pattern would actually have been useful. The shoulder ruffles are different widths as a result.
I bothered scalloping the hem, which wasn't too onerous in the end. The Sheshwe is quite obliging, hardly frays and stays where it's put.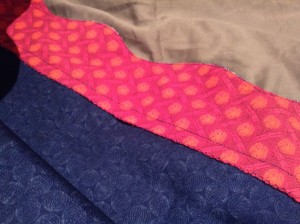 She rather likes the dress. I think it would make a great nightie in a lighter weight fabric too.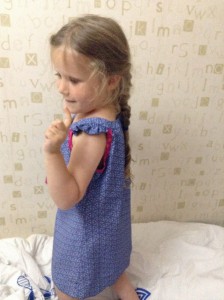 I have another half metre left. Maybe a matching outfit for her little cousin beckons.