I've never been I'm a fan of quilting. I thought it looked like a pain in the rear end to cut things out, sew them together, then sew more together, so on and so on… and the idea that in order to do this I had to buy more fabric *specifically for this task*…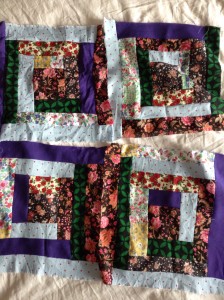 My understanding of quilts, and patchwork, is that they were something that was originally made to make use of tiny scraps of worn out clothes, so it seems a bit absurd that making a quilt is more of a status symbol these days than the creation of anything useful. However, recently I found myself with a great many scraps, and no money to buy fabric, so I found some information about how to make a simple log cabin quilt which just involves sewing strips of fabric around a central square. I have made a couple of patchwork quilts before, but I hated every second of it. It was amazingly dull, sewing squares together endlessly.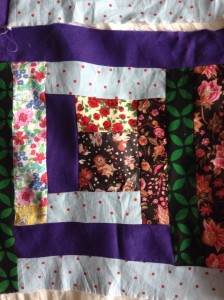 The log cabin quilts made from scraps I saw online were made with a fine eye for colour and pattern and design. Someone had sifted through their scraps with love, care and attention. I don't have any of those things, so I sewed the strips done together in a random order.
But the log cabin pattern come together very quickly and I was able to make 4 blocks (which is the name for the individual components of a larger quilt) in about 40 minutes. Had I been bothered, I would have tried to arrange the scraps in a aesthetically pleasing order but I figured true "makers" are driven not so much by aesthetics but a wish to save money and make use of things, Womble style. So with that in mind, all I really tried to do would make sure that identical strips were not touching one another.
I have 4 blocks now, enough for a cot quilt I guess, but I think I will carry on and wear down my scraps pile, and see where it takes me. It feels very virtuous to be making use of these. Have I been converted into one of those crazed quilting women I saw at the Knitting and Stitching Show, a slightly crazed look on their faces as they seized fistfuls of fat quarters? Who knows. Maybe…