I bought a Burberry suit on Ebay a while ago, jacket, skirt and trousers, for £100. However, all but the jacket are too big at the waist and I have been looking at the skirt and trousers on and off, thinking that I must get round to altering them. I remember I once tried to adjust a skirt using darts – I hand sewed them through the waistband leaving a massive bulge that then undid itself throughout the day and that's put me off for a long time.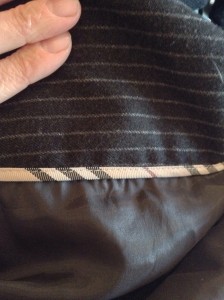 Finally I got my ripper out and set to. The skirt's construction is interesting and complicated. The waistband is attached every which way. There is bias binding on the lining, twill tape on the inside and endless rows and rows of topstitching. I have had to undo both the side seam and the zip as there's about 4 inches of loose fabric between my waist and this skirt, but once undone the job appears to be quite easy. Here is the dismantled skirt on Monica the dressform. It's inside out with the lining pushed out of the way for now.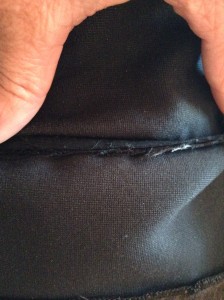 I have marked the excess fabric with pins. I am going to tack it first, try it on and then machine it, grading out to the original side seams at the hip.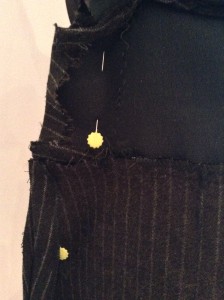 Reassembling this is going to be a lark. The label says "size 8" but that's insanely generous.