Small wriggly creatures have many habits. They are usually covered in scabs and bruises from something or other, they sit and chew their hair and periodically, the owner finds that they have grown out of most of their clothes.
I bought this Anna Maria Horner fabric at the Knitting and Stitching Show. I think this is the last chunk of my purchases. I think I'm pretty good about not hoarding stash and I tend to have something in mind when I buy the fabric. Scraps are a different matter, I have loads of scraps that I periodically dump on the school.
This is the Music Box Pinafore from Oliver+S. A perfect school pinny pattern but since most of her Bread & Jam dresses are outgrown and summer beckons, I thought I'd make this version first.
It's unspeakably simple.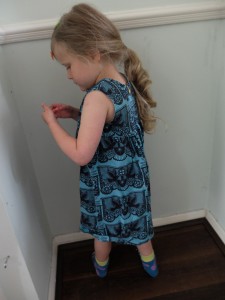 There are only a few pattern pieces. Indeed, I only used two in the end for the bodice, the rest is a gathered skirt, and I used an invisible zip rather than the buttons on the pattern. Because there is time for many things in life, but chasing a child around while you attempt to button up the back of a dress is not one of them. I finished it with bias binding rather than lining the bodice, for speed and for versatility in warm weather.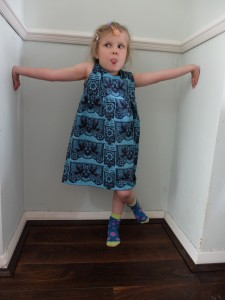 I like the print here. It looks sort of Mexican(?) to me and I managed to pattern match the back bodice reasonably well. It's an unusual palette for girls' clothes, which I like. I don't hold with Pink Stinks but sometimes it's nice to take the advantage home sewing gives you, and use something different.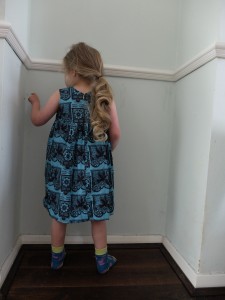 It's really fortunate that I am not squeamish, although I must dust that corner at some point.