(The above is a reference to a My Little Pony).
Many long years ago when I was at university, I had a dress. It was a black dress with a daisy print, a small round lace trimmed collar, short sleeves and a sash at the back. I loved that dress, I bought it from Miss Selfridge right around the time that a vintage tea dress worn with bovver boots (swapped for Vans or Airwalks in the summer) was pretty much the uniform and to be honest, I may have ditched the Doc Martens some time ago but the rest has remained more or less constant.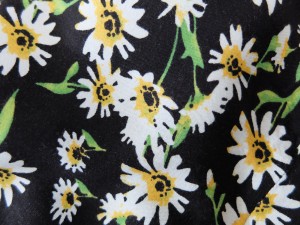 However, at one point I went out with someone who much preferred me in jeans and hated dresses. So for some reason I scooped up a lot of my floral print frocks and gave them to a charity shop in Hitchin. I still remember seeing my daisy dress on a mannequin in the window and went to buy it back, but by the time I got there, it had gone. Oh, the distress.
I've had half an eye out for a similar print for ages. Two years in fact. At B&M in Kirkgate Market, Leeds, I spied something that more or less fitted the bill. It's drapey rayon challis, so from memory it's a pretty good match for the fabric, and the print is not dissimilar. But look: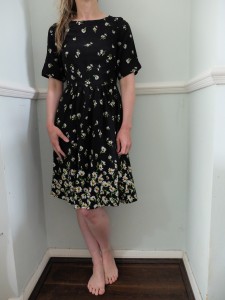 It's a border print! I was so delighted with this I bought loads, at £3 a metre indeed. There are some odd holes in it here and there, which is interesting because I bought some other rayon at a different shop recently and it also had random holes in it here and there. So it's just as well the stuff is (a) cheap and (b) abundant.
After my Emery triumph, I chose to make another Emery. The By Hand Kim dress would have been a similar shape but I seem to remember my old dress had sleeves and a higher neckline. I opted to leave off the collar and lined it with some leftover silk I had lying around (as you do).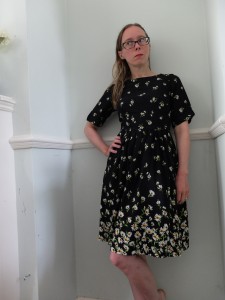 In some ways this is better than my old frock. It has pockets for one thing, and a silk lining which I hand stitched down.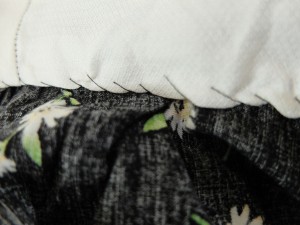 I did a nice clean finish with the invisible zip too, there's a nice tutorial on By Hand London for this if you've not done it before.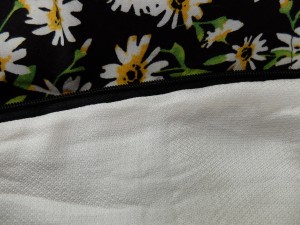 I wore this for a friend's birthday party in Brighton. It's nice and breathable for sweaty pub backrooms and the pockets are great for filling with blinis and mini cupcakes at the buffet for the long train trip home.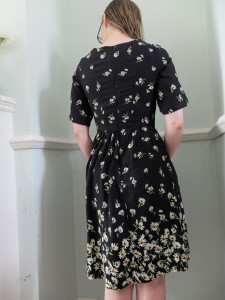 Those back wrinkles. Hmm. I put those down to the odd posture I am assuming here as they aren't usually visible.
I am sure that if I laid my hands on the original dress, I'd be disappointed with it. But I'm quite happy with my replica.