I have been craving a nice blouse for a long time. Something structured yet soft, something pretty yet versatile. When I buy woven tops they always end up being too big and sag down at the bust, giving everyone a nice eyeful of my bra. I've bought shirts from places like TM Lewin, but the looser fit styles are too loose and they are more inhabited than worn. The fitted versions are OK but the waist is far too low, meaning I am forever yanking them down to prevent weird gapes.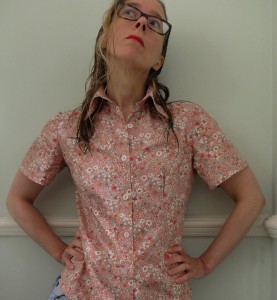 This is Butterick 5526 which I have made before in stripy Paul Smith fabric.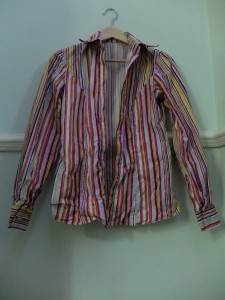 This is an OK shirt but suffers from the same problems as my RTW versions. It is slightly too big all over and the reason I did not take a picture of myself in it is that I feel the collar is trying to eat me alive, so I look like Harry Hill. However, I like the princess seams and sparkly buttons that I added.
I mulled over the shirt for ages and then thought, what the hell. I traced out the smallest size as, like an idiot, I followed the size guidelines on the envelope the first time. I pinched out about 3cm of length from every piece and shaved off about a centimetre from the collar. Surprise surprise, when I tried this on, it fitted! I do not need to yank it down, nor do I feel I am peering out from behind a massive collar.
I amended the sleeves to be short. I had a ponder about whether to leave it sleeveless, like Lladybird, but she lives in Tennessee. I think they get a lot more sleeveless blouse days than I do, in North London. Short sleeves means I feel a bit more dressed, and they will hopefully behave themselves under a cardigan.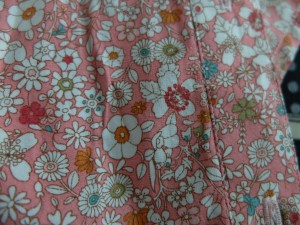 The fabric is a nice poplin from my favourite place in Leeds, B&M Fabrics in Kirkgate Market, and it cost me about £4 a metre. It's a bit ditzy, a bit pink, a bit 70s, but not too much. It has a slight texture to it, meaning I don't feel like I'm wearing quilting cotton.