I bought the Emery Dress pattern at the end of last year, having seen all sorts of enviable versions floating around. I really wanted to wear a cute fit and flare dress like this, with a higher neckline, pockets and a nice full skirt.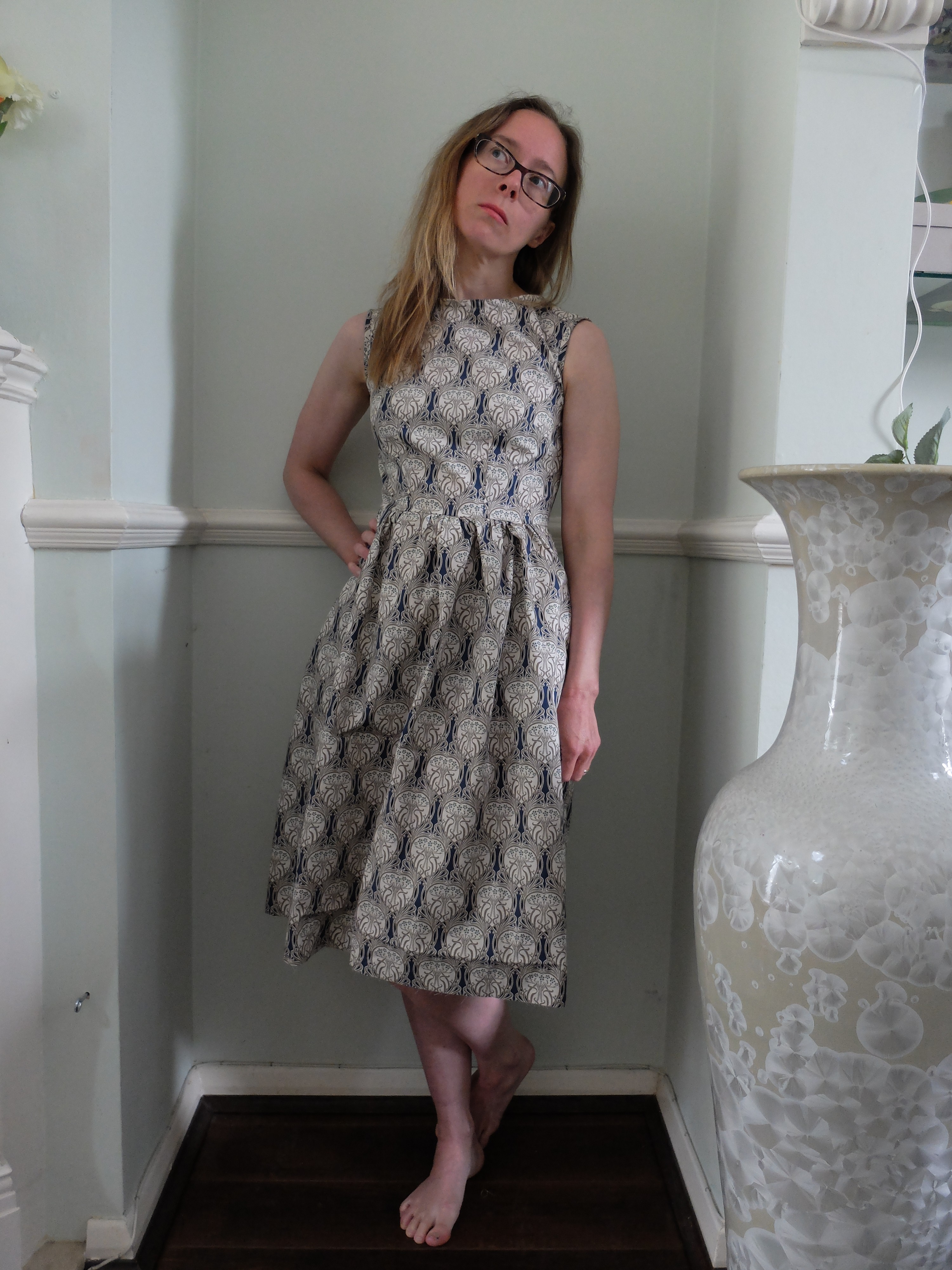 However, the reality was so horrendous, no photographs exist. Everything went wrong. From accidentally hoovering up one of the bodice pieces, to setting in the sleeves backwards – and then when I tried it on.
I had chosen a very vivid patchwork print lawn and the sleeves, high neck, gathered waist and APPALLING FIT (did I mention the appalling fit?) combined to make something quite ghastly. I looked like Anne Shirley's fever dream of a puff sleeved dress. I looked like I was wearing Kimmy Schmidt's formal bunker dress. And around the bodice there was gaping, there were pools and pools of fabric around the middle and yet the sleeves were too tight.
I must have worn the dress for about 30 seconds. It wasn't much longer than that before I took it apart and used the fabric to make two Geranium dresses for my daughter and niece, because dressing small girls in identical outfits is fun. Certainly more fun than wearing something that looked as if it was sucking me dry from the inside.
The pattern went into the sin bin for months. I didn't even want to think about it. But then I decided to be a grown up. I referred to my Colette sewing book, I looked at the Emery sew along, and used my new dress form, Monica, to make a couple of muslins.
It seemed that all I needed to do was pinch out the excess fabric and raise the waistline. So, I did! I decided to make the dress without the lining or sleeves, planning to finish it with bias binding. What I wanted was something very lightweight for the summer, which I might also be able to layer over a thin long sleeved t shirt in winter. There are some dire warnings about simply leaving off the sleeves on the sewalong. However, I think that because I had pretty much made the recommended alterations anyway, I pulled it off. I also raised the point of the bust darts so they were pointing at my boobs, rather than off into the middle distance.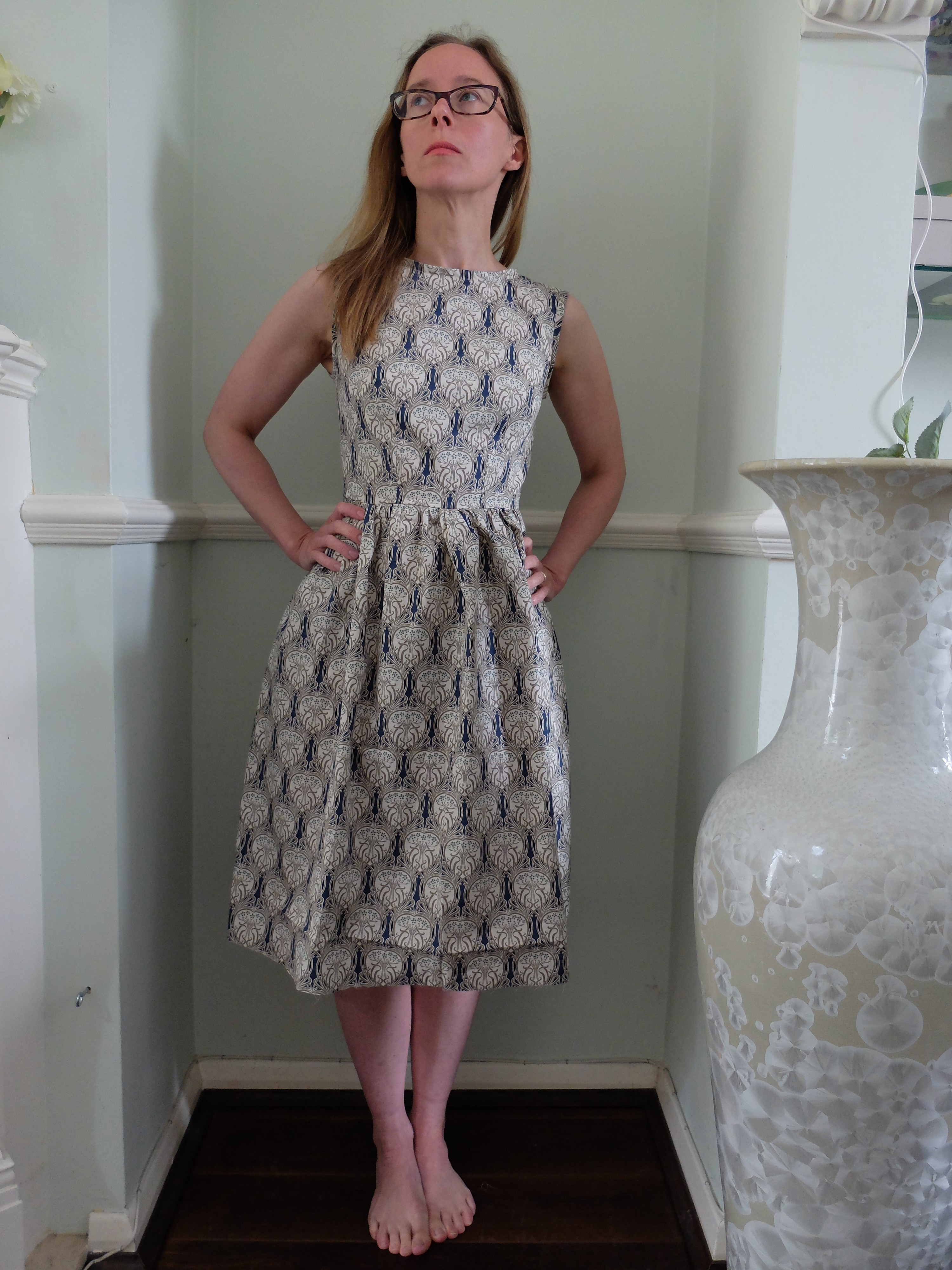 Here are the pattern pieces, showing how I folded out the excess.
I had measured this on myself before and double checked it with *another* muslin before starting for real. As you can see there were a couple of cms of extra "ease" across the centre, and another couple of cms at the waist. For next time I will trace and grade this properly. The gathered skirt meant that I didn't have to adjust this part of the pattern, I just gathered it to fit. I thought of adding a circle skirt but considered that this pattern, with a definite direction, would look odd as a circle skirt. Possibly migraine inducing.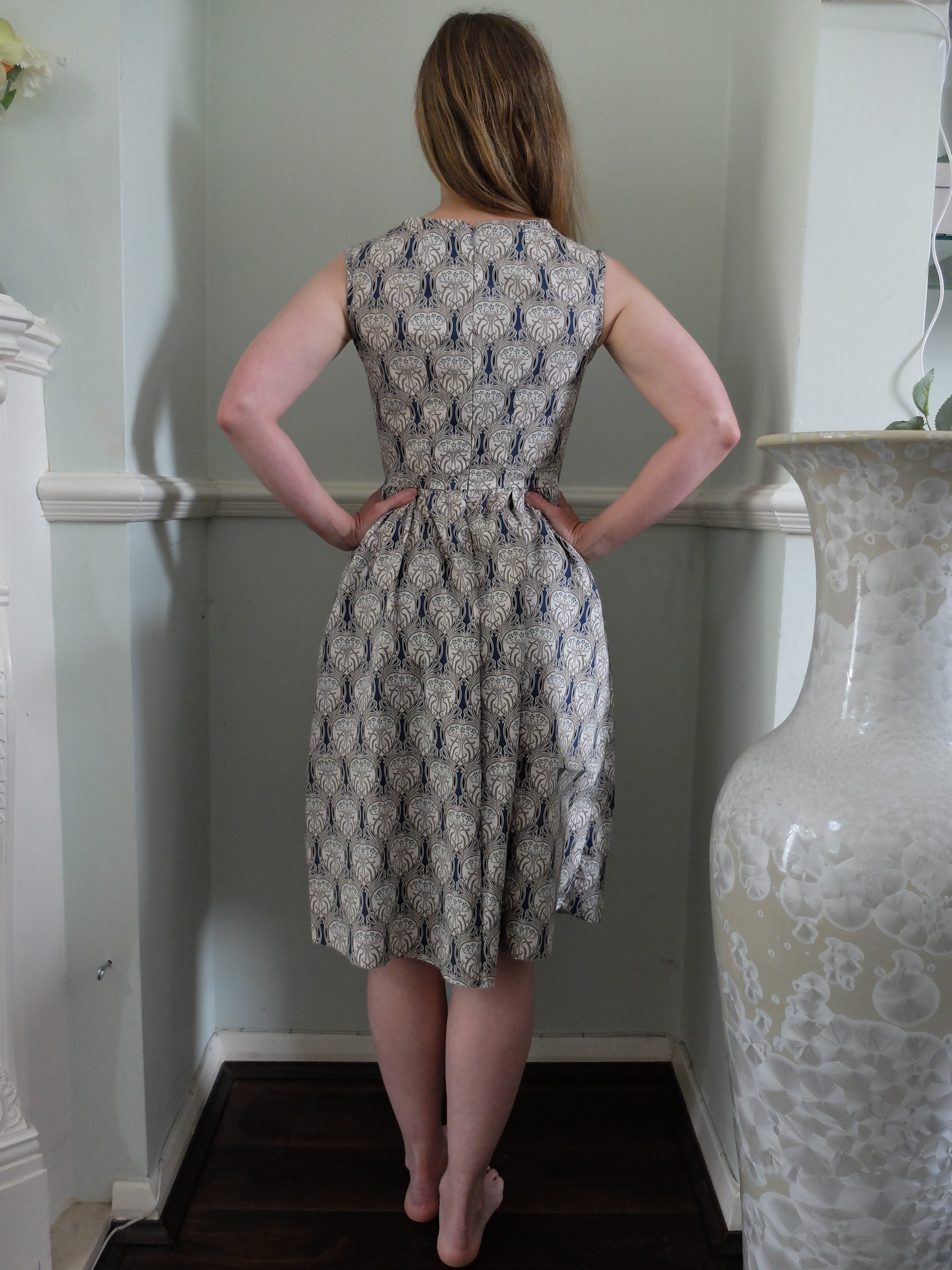 The bias facing around the neck is standing proud. I have left this for the moment, because I kind of like it, but I may fix this in the future.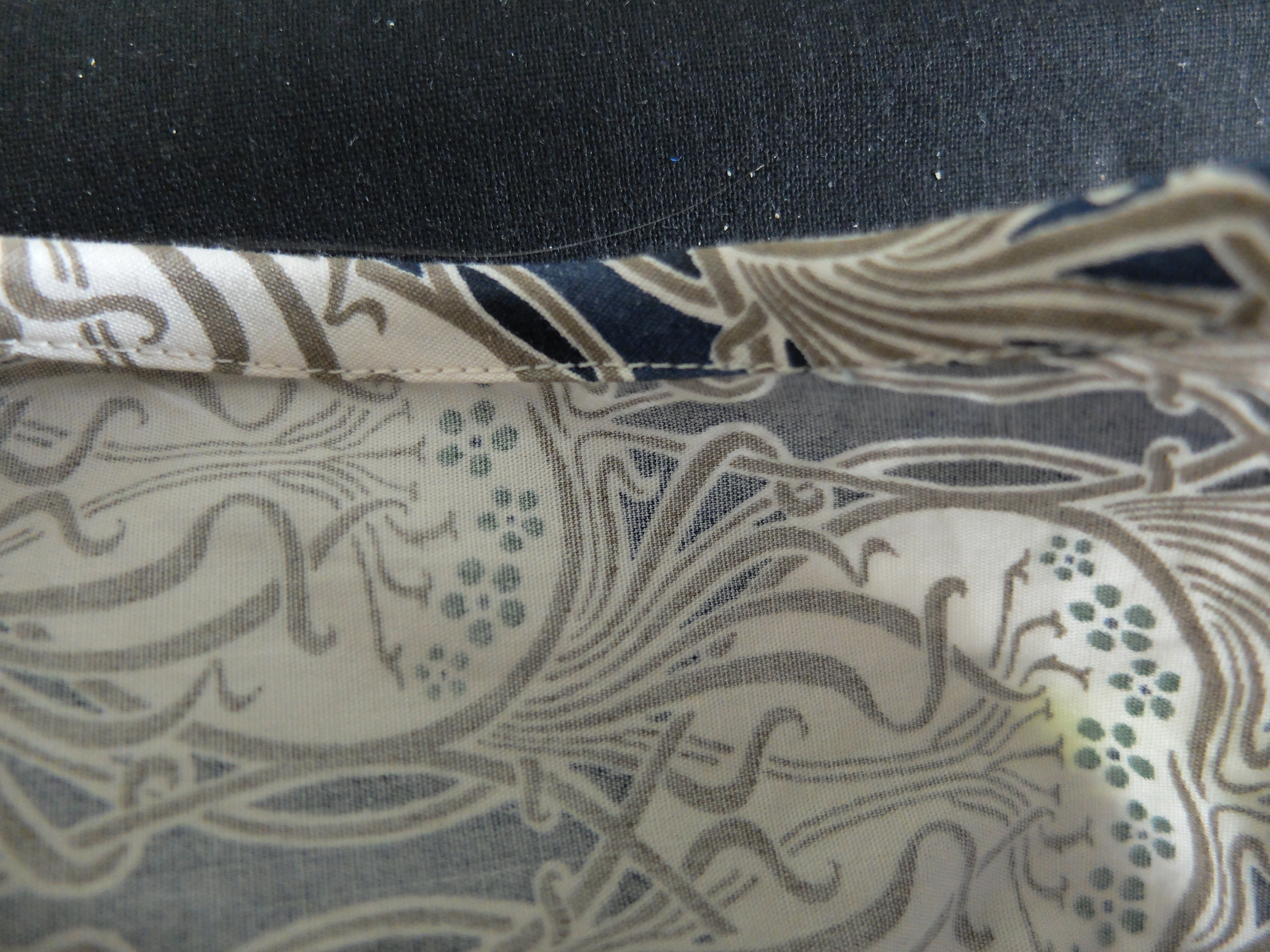 The fabric was from Olympia again, a sort of William Morris knock off with lots of Art Deco flourishes. I was looking at my WordPress media folder the other day and realised that I have, unconsciously, chosen most of my fabrics according to a palette. This is the kind of thing organised stylish people do so I was quite excited to realise I've been doing this anyway. As I suspected when I was looking for paint colours and couldn't see anything other than variations on eau de nil, I like things on the bluish, greeny, grey spectrum, punctuated with occasional red or orange. I also only really like "green" fragrances, like Chanel No. 19. Must be because, like Anne Shirley, I'm also secretly a dryad. The fabric is a cotton poplin, nice to work with and with a bit more body than quilting cotton imo.
The invisible zip insertion was a bit of a triumph, marred only (when I tried to put it on) by the realisation that I had bought a zip that is slightly too short and I had a struggle getting it over my boobs. I am not replacing the zip. It will never look this good a second time.