I've decided shirtdresses are the best thing. They suit just about everyone, they're satisfying to make, they look smart without trying and they aren't readily available on the high street.
So I made another one, bringing my total now to 4.
This one is made from the inexplicably discontinued Carline print from Liberty, on a cotton poplin which I bought at Olympia. This was the end of a roll and I very nearly had to have fisticuffs with the old dear next to me. £14 a metre, and only 1.5m to be had.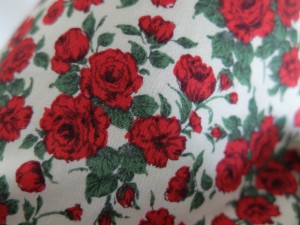 One of the perks of being small is that you save money on fabric. I was able to make the Edith shirt dress by Maria Denmark, just, out of what I had. The pattern is annoying as it has no seam allowance included, so I had to add that prior to cutting. The first time I made this, I didn't notice till too late, and had to use tiny tiny seams… Oops.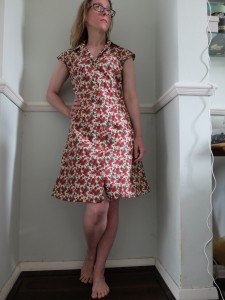 There were just enough scraps to make some self bias binding for the sleeves. The hem used bought bias and I actually pulled my finger out and blind hemmed it.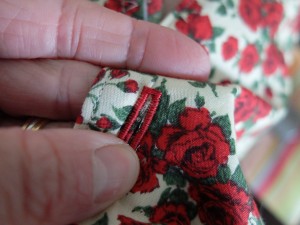 On the whole I love my birthday dress. There are some niggles: the side seams pull a bit and I'm not sure why, the interfacing I used is a bit stiff and the buttonholes gape a little when I slouch. I'm going to add another button at the top, because slumping in my seat (which I inevitably do, frequently) results in a nifty view of my bra.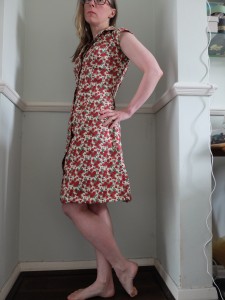 The Carline print brings out the shirtdress in so many people: Idle Fancy, Dolly Clackett and Handmade Jane. I think it looks retro without being costumey and whilst I worried that it would be overwhelming on me, I really don't think it is (there's a version with larger roses which might have been).