Just before Christmas I bought a couple of metres of this Anna Maria Horner rayon challis from the Oxford Street branch of John Lewis. It wasn't cheap by any means, but I later consoled myself by finding it at a much, much higher price elsewhere. I liked the echinacea print and the unusual colours.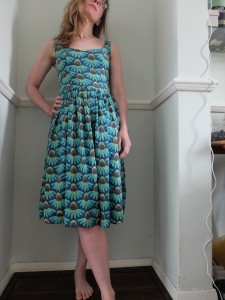 It sat for a good long while until I matched it up with the Kim pattern from By Hand London, bought at the Knitting and Stitching Show and sold to me by Victoria herself.
Kim has a sweetheart bodice and either a tulip or gathered dirndl skirt. Obviously I went for the gathers as this lightweight, swirly rayon is not a friend to structure.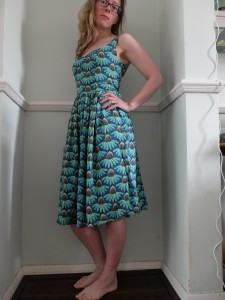 I made a bodice muslin from leftover liberty lawn, reasoning that (a) I didn't have enough rayon and (b) if it fitted, I'd use this as lining, and the lawn would give the bodice a little more body. The muslin fitted fine so off I went.
Rayon (viscose) challis is very slippery, drapey and spits out pins. It frays while you're looking at it and god help you if you try to straighten edges by ripping it – little runs appear on either side.
However, it presses well and the lawn gave that little extra foundation the bodice needed. As the fabric is quite delicate and i was worried about pulling at the seams, i topstitched the bodice. Gathering was a pleasure, I used 2 rows of wide machine stitches rather than hand sewing as the pattern suggested. I also left off the pintucks as they'd be lost with such a bold print.
Wearing this was such fun, with a swooshy skirt and bodice that made it look almost as if I had bosoms. However, wearing it indicated that the fit wasn't quite right and I'd also caught the zip in the gathers at the back.
Out came the ripper. I needed to shorten the shoulder straps and fix the zip. A lot of unpicking later, I turned the straps inside out to shorten them by a couple of centimetres and then addressed the zip. I undid the gathers at either side and pressed these out, interfaced the wrong side and then put the zip in. This wasn't in the pattern instructions, no doubt because it's obvious, but I wished I'd thought of that the first time around. I did attach the lining properly, since I had it all opened out anyway.
And… bing. I'm really pleased I made the effort to fix the fit niggles.