I have so far made 2 versions of this dress, after 2 muslins' worth of fitting and swearing. This whole experience has been an interesting exercise in just why home sewers need to have an intimate knowledge of their own proportions. I am very short, around five feet tall, and measure 35-24-32. I have narrow shoulders and a low waist, but my upper arms have proper biceps which, on one occasion, actually burst a narrow sleeve just like She Hulk. Grr.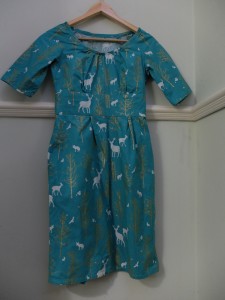 I adored the pattern from the moment I saw it, and bought it with a 15% introductory offer. I liked the clean lines and unusual design and as soon as I'd printed it out and taped it together, I got to work.
I made a bodice muslin from spare Ikea fabric, from the straight size 0 and … err. There was enough room in the bodice to store my lunch and the neckline gaped down to Greenwich. Back I went to the pattern and pulled out as much ease as I could manage. Having adjusted the muslin and being reasonably happy, I got on with my *ahem* fashion fabric, a black sparkly stuff from Croft Mill.
There are no photos of the finished result for 2 reasons. One, the fit was so appalling that I immediately swore never to think of it again, and two, the fabric was so astonishingly itchy I had to remove it very fast. The fabric was impossible to press as well, which made the whole thing even more difficult. Try making self bias binding with fabric that wouldn't take a crease even if you had a nuclear powered iron.
Despite this, I persisted. I made more adjustments to the pattern and started again. This was in November so I bought Christmas fabric, this green stuff with reindeers on from Plush Addict. The cotton was so, so much easier to manage than whatever the sparkly stuff was made of. I didn't pattern match as such, but tried to ensure that there was a good distribution of reindeers and that I didn't, for example, have a reindeer's arse on my boob or anything.
However, once more the neckline wanted to swallow me up in its gaping maw. What to do? I wanted to wear the dress for my husband's birthday party, so I bodged it. In a remedy which has been popular around the sewing blogs I've read, I extended the front gathers and also gathered the shoulders. This worked nicely for this lightweight, obliging cotton fabric and in the end, the fit was fine.
Glutton for punishment that I am, I went back to the pattern. Finally the sewalong had appeared and I was at last able to attend to the massive shoulders. The pattern adjustment was not too bad and yet another muslin was made. I could hardly believe my eyes when the thing actually fitted. Fitted! Without sneaky gathers or extra darts.
I made up the next version in a wool blend fabric from Croft Mill again.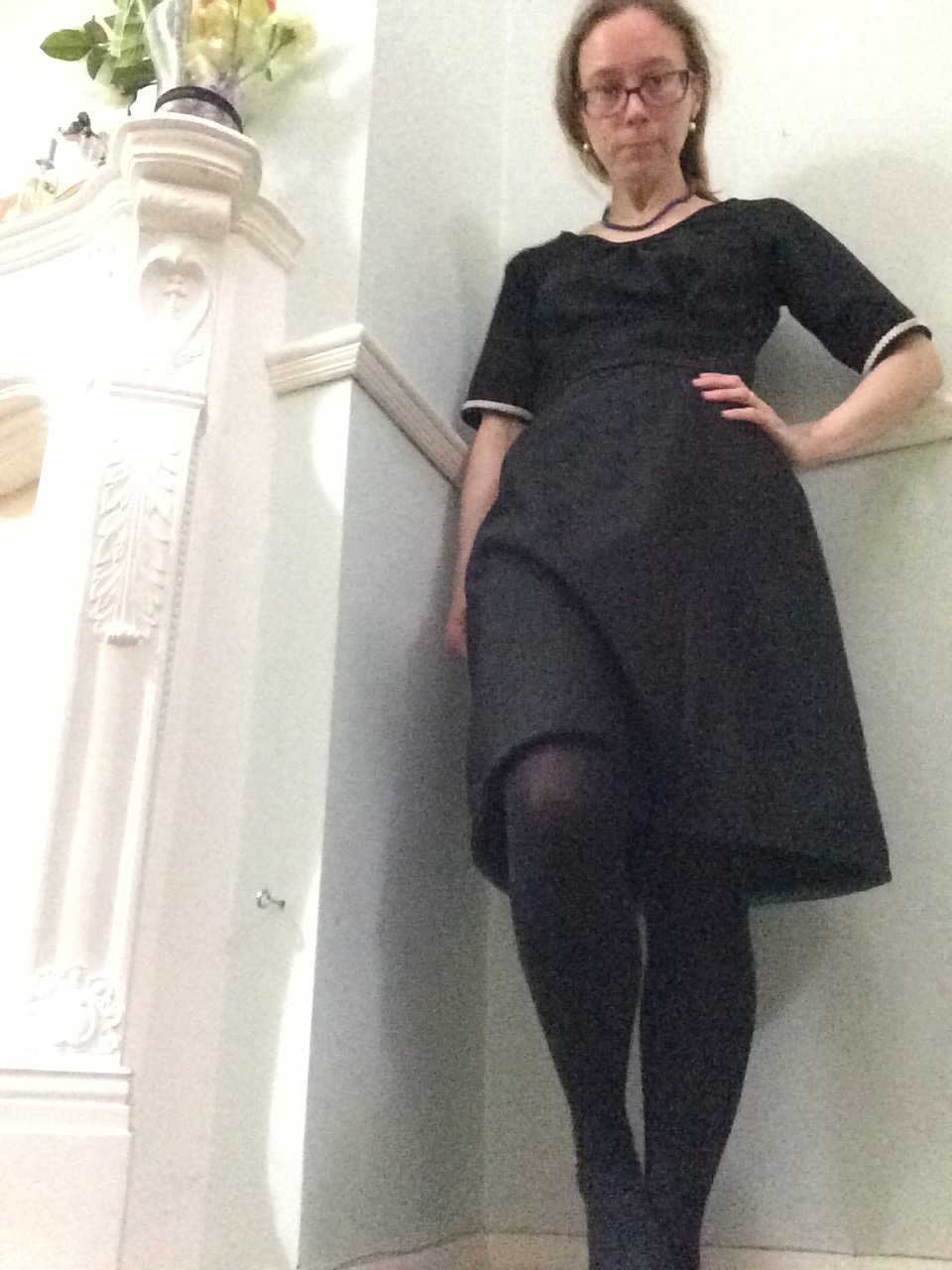 This was on special offer because of a weaving flaw which I was able to cut around thanks to the relatively small pattern pieces. I made the version 1 bodice but used the fuller skirt from version 2, more because I couldn't really bear to have made the same dress twice.
Thanks to the pattern adjustment, the shoulders fitted much better.
In my infinite wisdom I trimmed the neckline and cuffs with lace which instantly made me look like a silver service waitress (not that there's anything wrong with being a waitress, it's just that I'm not a waitress) and which, irritatingly, would not lie flat on the neckline. I balled the dress up for several months and was annoyed with the whole business.
I found the dress more recently following a wardrobe tidy. I have told myself I'm not making anything till I've fixed the minor on other projects. I have a couple of zippers that I need to insert properly, a RTW skirt and trousers to adjust, and this dress.
The first thing I did was remove the lace from the neckline, then replace the bodged bias binding with fresh stuff. It was quite galling to have completed the whole job in half an hour, having left it to fester for so long. The one bummer left is that in all the unpicking, the gathers have loosened a little and there is now some empty real estate around the boobular area which can be remedied by a padded bra.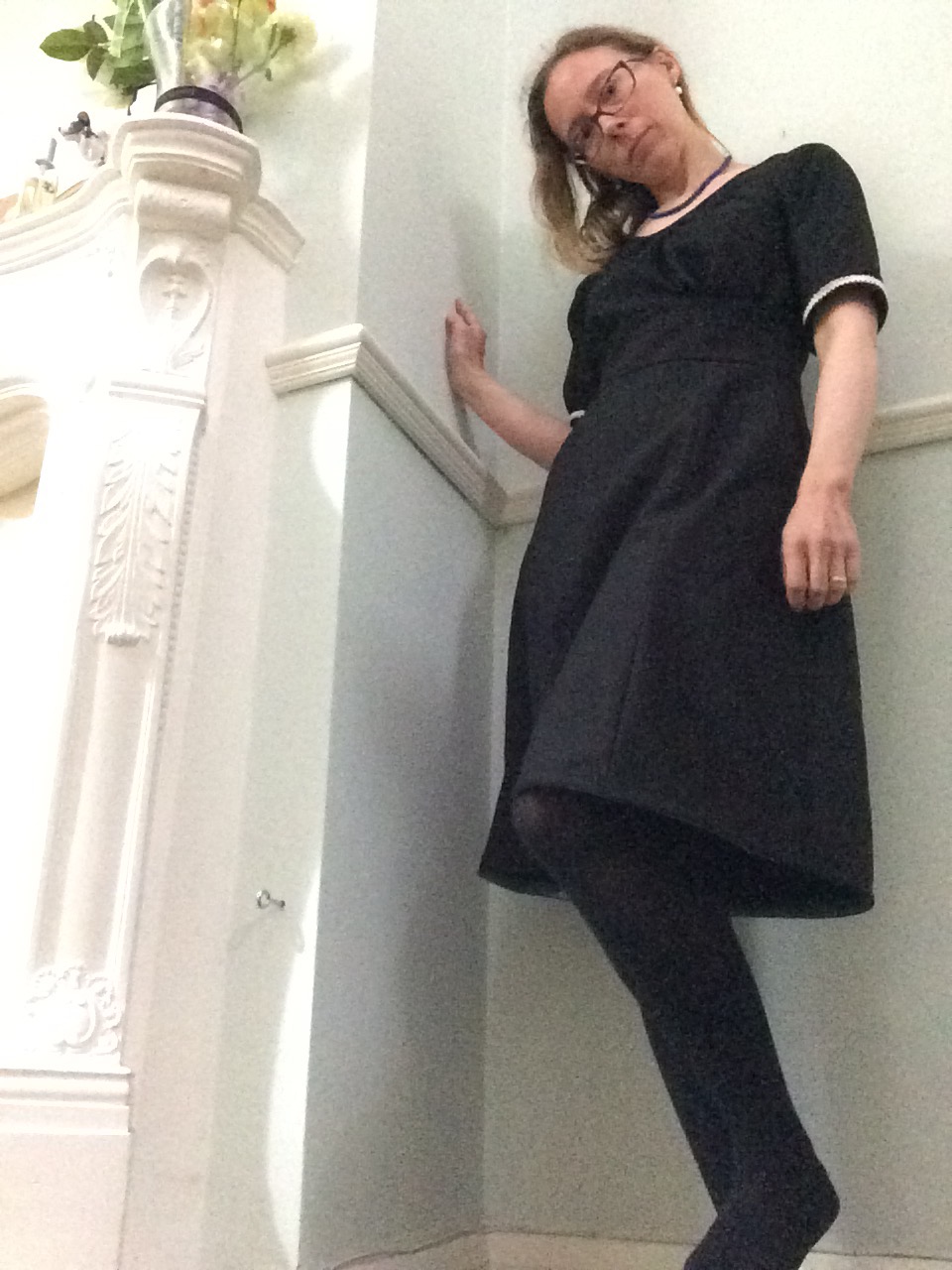 I'm left with a very sober dress in a nice soft fabric that is ideal for work and a great deal of experience in fitting raglan sleeves to a tiny person! I will make this again, adding inseam pockets to the skirt, at some point. The feedback on the Dahlia pattern has been distinctly mixed, the general feeling being that the amount of fitting involved is unreasonable for a beginner to tackle. If you have narrow shoulders and a proportionately small bosom, I would nod enthusiastic assent. Yes, it is complicated but I've seen really great results.
From the bosom down, i.e. the waistband and skirt, the fit was fine. I might even attempt to make just a skirt from it.