"African*" wax print fabric is becoming very modish of late.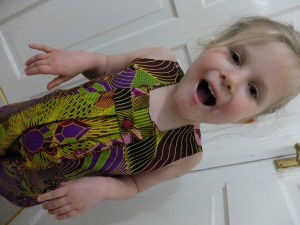 I work quite close to a collection of shops which specialise in this stuff, and one lunch time recently I succumbed to some quite extraordinarily bright and detailed fabric. The area is around Commercial Street, on the way down to hipster central, Brick Lane. If I put on my posh Mac Hipster Red lipstick before visiting the area, my unkempt appearance transforms into artful dishevelledness and suddenly I get handed flyers for some scabrous "vintage" pop up shop or festering cafe.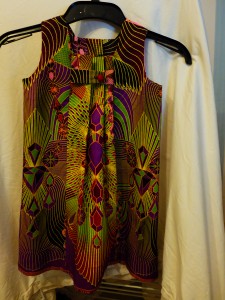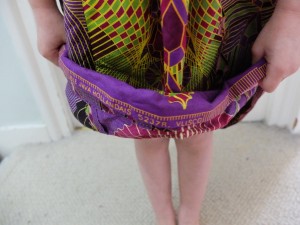 Bright, right? I have about 6 metres of this. A word of warning, when you buy wax print, it usually comes with a few stickers on it as a guarantee of authenticity. It is a good idea to remove these before pre-washing as removing the many little bits of paper and glue from the fabric *after* washing is absolutely no fun at all. That's a free bit of advice from me, to you. I'd also note that this isn't true wax print, this is from their Java range and the process is somewhat different.
This stuff is Vlisco, from their middle range, and cost about £30 for the 6 metres. It's nice stuff too, with a slight sheen, and very pleasant to work with.
One of the Mormon women who sew uniforms for their clutch of children recommended the Oliver + S Birthday Party dress as a nice pinny pattern and whilst I might yet make a school pinny from it, I thought the complicated pattern and eye watering colours would go down a treat on the girl.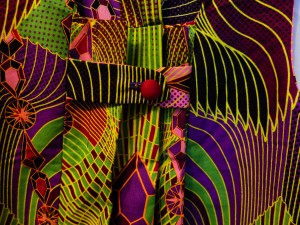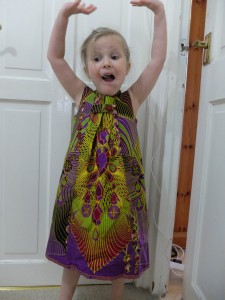 This is rated as three scissors, like the School Days coat. It *was* a challenge, I think, but a pleasant one. I went against the instructions for one major bit – the shoulder straps. The instructions have you blind stitching the lining by hand and I was about to do this, but them remembered something I'd seen on the Great British Sewing Bee. When they made waistcoats, they sort of turned the shoulders inside out and machined them, giving a clean finish with no hand sewing. Once I'd figured out that the key, really, is ensuring you have the right sides together, I had a go.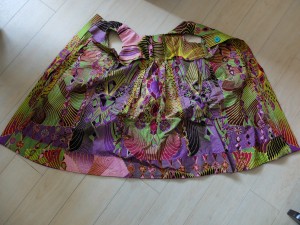 It worked really well and I didn't have to hand sew anything! Bonus.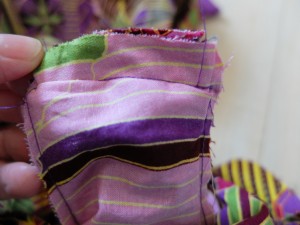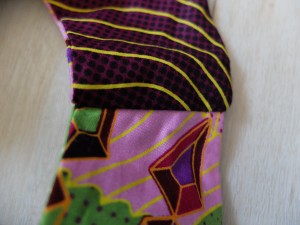 The thing that really got my brain was trying to pattern match. I ended up matching panels rather than the whole thing, partly because I didn't want to waste so much fabric, and partly becauseMy…eyyeeeesss… I thought it would be more fun. Of course I am a numpty as the left and right patterns are going in the same direction. I should have cut them out separately.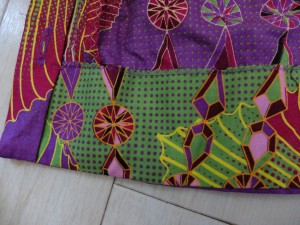 Up the back I put some turquoise buttons. It's a bit annoying because she won't be able to do these up herself. I think if I did make this into a school dress, I might replace the buttons with a zip. Overall, I would quite like to attend the kind of birthday party that looked like this. I am sure there would be something interesting in the lemonade.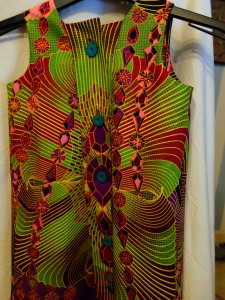 *Africa, as my South African husband likes to remind people, is not a country. It is not a desert containing a few acacia trees. It is a socking great big continent containing lots of different environments and people.