I bought the Colette Patterns Negroni ages ago, in the first flush of a new hobby. I went a bit mad for Colette for a while, although on reflection I regret buying the A-line Ginger skirt and Violet blouse.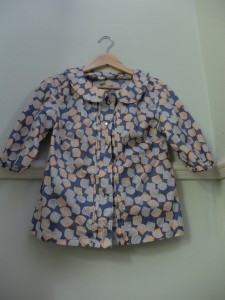 Both are very nice, but suited to a different body shape to mine. The skirt has such a broad waistband that it comes up to my chin and the blouse's Peter Pan collar is just too voluminous. I think they suit someone taller, with broader shoulders and a thicker waist. It's experiences like these, though, that help inform you about what you truly like and dislike, and what fits you. I realised that I prefer things to be a bit more swirly below the waist, and because I am so small, I prefer to have less going on around my neck.
At least I can look at my failures, my wadders, and consider that for the most part it wasn't technical incompetence but personal taste that led to their demise. I hope as I develop my skills I will be able to look at a pattern and know whether it's going to swallow me up. There's just not enough real estate on my body for fussy details, big prints and wacky trims – a shame I think. I'd love to be one of those women with purple victory rolls and ample bosoms who pull off cherry print circle skirts like it ain't no thing.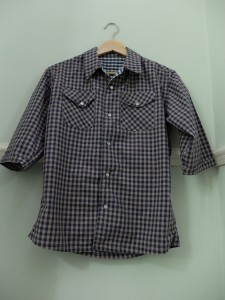 But after all this navel gazing, my husband observed that I had so far failed to make him anything except some nightwear. Ehh. OK then. It's hard to sew for other people for lots of reasons, the main one being that they might not like it and/or understand the effort that went into it. But I already had the pattern, so out came Negroni. I had muslined this ages and ages ago, using my seemingly endless supply of leftover curtain fabric, and thought the Medium fitted him OK.
I had some lovely soft Paul Smith pink and blue gingham from Croft Mill, left over from something else – there wasn't quite enough, so I used the last of the Checky Dress's handloom gingham for the facing and the back of the collar.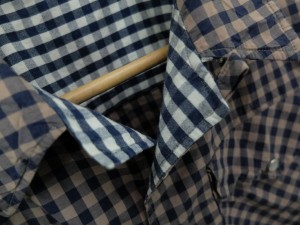 Negroni is a nice introduction to making shirts I think. I made the short sleeved version as my husband barely ever feels the cold. I had to take it in at the side seams quite a bit, as I'd made the Medium, and he's really a Small. Pearl snaps seemed to be just the thing, although this makes a mockery of the button loop I added in, and he was delighted with the end result. The instructions are nice and clear, even when you get to the bit where you have to roll everything up inside the yoke like a burrito. This is a tricky step for a British person who is not particularly familiar with burritos.
Like me, he is a hamster and loves pockets, so I made sure these were put on correctly, with the flaps cut on the cross grain.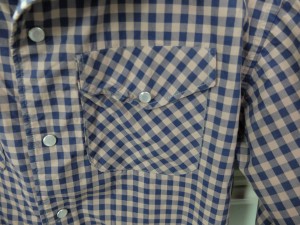 The shirt has gotten a great deal of wear. To his credit, if people compliment the shirt, he says that it was made for him. I think it's his favourite. I still feel possessive of it though. I get annoyed when he hasn't washed his neck and has left a mark on the collar, for instance. I actually iron it for him, which I wouldn't normally do. It looks fairly smart, and he wears it with a lightweight jacket for work.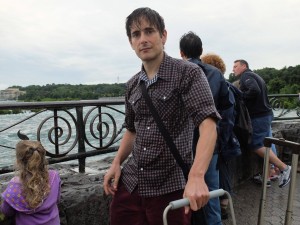 Negroni has what's apparently known as a camp collar, which is a more casual style.Nick has a slight frame and large collars tend to drown him. He also gets hot very easily and when he wears a tie he looks as if it's trying to throttle him. As a result this casual collar, designed to be worn unbuttoned, works really well on him.