I was inspired to make a shirt dress by the lovely Idle Fancy blog – I would love to live somewhere warm enough that in December the only addition you might consider adding to your collection of gorgeous floral frocks is a light cardigan – and have had two attempts so far.
The first is the relatively easy (but still not for beginners I think) Traveler Dress from Lisette, which I bought during Simplicity's last half price sale.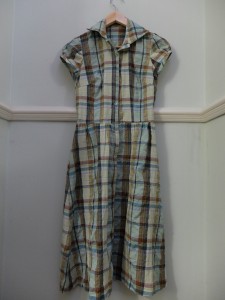 This uses a lightweight seersucker plaid with silvery thread running through the checks, bought for something like £3 a metre from Jersey Vogue Fabrics in Edgware. It must have a fairly high poly content because it has a bit of a sheen to it and was quite hard to press.
I cocked up the collar and the button band I think but overall I really like this. I feel like an extra from an am dram production of Oklahoma (which I have actually been). The waist needs an extra snap on the inside as it gapes a bit.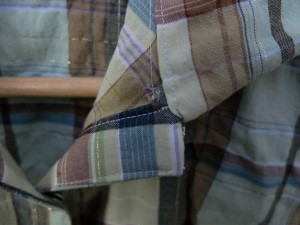 The main problem I encountered here was fabric. I do like the checks and gold thread, and its floaty nature. I am sure I am going to wear this a lot when the weather gets warmer. However, I found that it was quite fragile and intolerant of unpicking. I had to undo the entire button band, and it did not take kindly to this, not one little bit. It's now full of tiny rips, presumably the thread is stronger than the fabric. This is unfortunate. I'd love to re-do the button band and collar, which as you can see is slightly bodged, but I think the whole thing would disintegrate if I did.
I used snaps. Again. I love snaps, I do, especially since I invested in a pair of proper pliers. Before, I was just whacking them with a hammer on my doorstep, which got me funny looks from the neighbours and patchy results. They aren't really any cheaper or easier to apply than buttons, but there's something about them I love. The way they facilitate quick changes, perhaps?
Onto Shirtdress #2 – the legendary McCalls 6696. This is a "proper" shirt dress with a real collar, waistband and pockets. Initially deterred because my last "proper" collared shirt made me look like Harry Hill, I was persuaded to give this a try by Dolly Clackett's floral version. I went for the ¾ sleeved option with a pencil skirt because I thought it would suit my… [mysterious noise] Mystery Fabric better.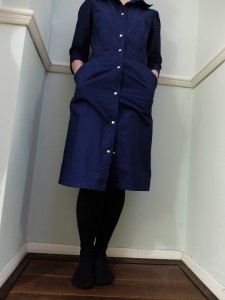 I bought 3 metres, OK, yards, of Mystery Fabric at Mood in NYC when I was on holiday there in the summer. I am not sure what came over me in the shop, surrounded by fabulous prints of every description, but I went and bought some plain indigo stuff labelled as "sateen" and some teal coloured viscose jersey. I also bought some lovely hand painted buttons which I accidentally threw away, but that memory causes me pain so I won't discuss that further.
I got the stuff home and pre-washed it. Hmm. This isn't sateen. I blame the jet lag, and chasing the girl around miles and miles of shelves for not being able to spot this at the time. In fact I have no real idea what it is. It has a sheen to it, but also appears to have paler blue warp threads under the intense indigo colour. Despite the pre-washing, endless amounts of blue dye came off on my hands and once completed, it went on to have 3 more washes before the dye even remotely stopped shedding. It's a poplin weight I think, and shows up pin holes like anyone's business – I used Clover clips rather than pins for a lot of this once I realised. Some sort of chambray?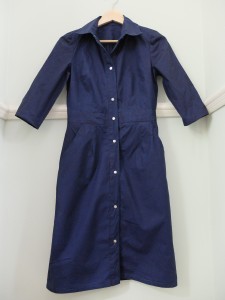 This stuff is like Dorian Gray's portrait. It reflects everything, every injustice it's wreaked, every immoral act. Yarg. However, I realise that if this is chambray, it's going to wear in beautifully. I hope. The instructions were OK I think, but it assumed a lot of prior knowledge. I'd have been mightily baffled if I hadn't made a "proper" shirt before – this is not the place to start. The instructions also called for a lot of slipstitching.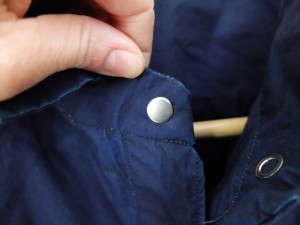 Really? Given I practically had to use a hammer to get pins into this stuff (it's like it's been coated in shellac), I wasn't going to attempt miles and miles of slipstitching. No, I'm a lazy creature and I like topstitching, so that's what it got. I just hemmed the sleeves in the end rather than add the weird pointy things. I was worried that adding chevrons to my sleeves would be a bit much like an alien bureaucrat's costome in an early season of TNG. The process was quite a faff and I just couldn't see myself in the end result.
The fit at the front is blimmin' perfect, but at the back… bit bunchy.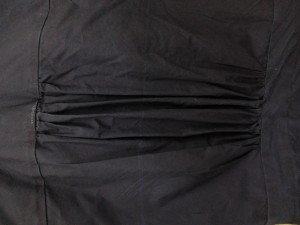 I replaced the gathers with a box pleat as I could store my lunch in the sticky out part at the back. The fabric is still a bit stiff despite the 4 pre-washes it's had. From the front, I look like a member of some sort of strict girls' brigade, which I would enjoy, and may even found. Or possibly a nurse, if nurses like having their dresses pop undone every time they crouch down (which as it turns out I do quite a lot. Hopefully this is just because the skirt keeps sticking to the tights I'm wearing.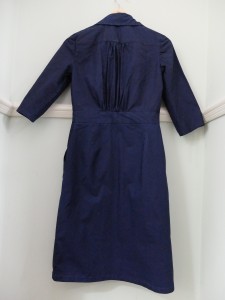 I do like wearing navy, which is just as well because I'm going to be navy all over after wearing this all day.