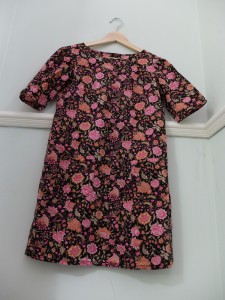 So how do people learn sewing when they aren't really taught it at school?
Whilst my mother and grandmother attempted to teach me to sew and knit, I picked up some odd habits from them, like using tailor tacks when chalk would do just as well, and never tracing patterns, meaning that if you'd cut a size too small, you'd wasted your money. I was taught sewing at school, 1,000 years ago, by a vile sociopath called Mrs Inglis. Mrs Inglis barely concealed her horror at my wish to construct a pleated skirt in Home Economics. She would routinely remove the scissors from my hands, stating that I was too cack handed (I've never managed to cut myself with scissors – jabbed pins into myself repeatedly, banged fingers with hammers, yes), and openly laughed at my attempt at a screen printed blouse (with a sheep on it).
Fortunately my end results were good enough to prevent despondency. I wore the sheep blouse quite a lot in fact, even at university.
However, apart from the odd curtain over the years, and a dress for a May Ball that I'd rather not discuss right now, I didn't pick up the craft again until fairly recently.
How to revise what I'd learned a whole millennium ago? A lot of books suggest starting off with cushion covers and the like. Well, stuff that. I could barely comprehend wasting time constructing something that gets sat and farted on. No, I wanted to make a dress.
I'd always wanted to make a simple dress in Liberty print cotton lawn. Lawn is a light weight, silky feeling cotton. I'd been deterred by the cost in Liberty itself – upwards of £22 a metre. However, I found 3 metres for about £30 on Ebay and when it arrived I spent a long time fondling the fabric and worrying about the expensive disaster I was about to wreak.
The pattern I chose was the achingly simple Laurel from Colette. Laurel is a simple shift dress with sleeves, darts at front and back and patch pockets. It's finished with bias binding rather than a fiddly facing and the end result is a straightforward frock that can go anywhere.
There are only 3 main pieces to the pattern and the only part that posed a challenge was easing in the sleeves, which I did in the round. I made miles and miles of bias binding too, a dull job that paid off in the end as I was able to use it for all sorts of things and it lasted for ages.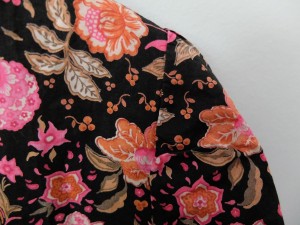 Initially I put in a zip but after forgetting to undo it I found I could put the dress on without, so I removed it.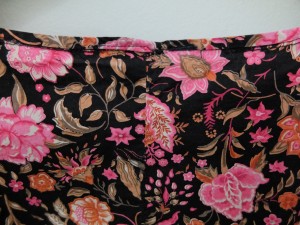 So although the challenge was perhaps slightly greater than that of a cushion, I think the pay off was well worth it. Instead of a cushion, I have a dress – an actual dress, that I can wear, and which Mrs Inglis would probably snigger at but never mind that. Of course it isn't perfect. I could have done a much better job with the sleeves, I used cheap Coats Moon thread whereas the fabric deserves something of a higher quality, and some of the bias edging is well wonky. But as a revision exercise, and one which I wear often, it was well worth it. It's good to reflect on what one might do differently next time: French seams, better thread, neater finishing in this case. Would I recommend this to a beginner over a cushion cover? Well, it depends on how that beginner feels about cushions I suppose. The darts and sleeves do pose a challenge, but isn't that what learning is all about? If you take your time, read the directions carefully, watch some tutorials on the tricky stuff, I see no reason why not. At the end of it, you'll have picked up some really important basic skills in garment sewing.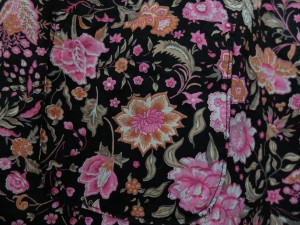 The other thing I learned was that people who compliment your hand sewn outfit don't want you to point out the mistakes. They are unlikely to understand them and it devalues the compliment.