I have been considering the free Coffee Date dress pattern for a while and finally decided to print the thing out and have a go.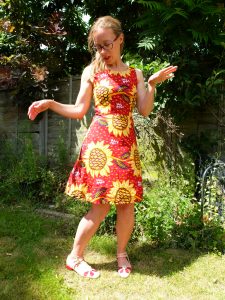 This is a very simple fitted dress with flared skirt, darts, back zip, facing and a ruffle at the front. And it's free! I am not so very different in size and shape from the Selfish Seamstress, the originator of this pttern, so I went for the single sized pattern rather than the multi. The facing is a nice all in one arrangement, so it's applied rather like a bodice lining, inside out, and then turned right way round for an all machine, clean finish. I ditch stitched the lower part of the armscye facing to stop that flapping out and annoying me. All the visible seams are trimmed and zig zagged and I went for a simple turned up hem and an invisible zip. The facing was attached to the zip using, again, an all machine clean finish method.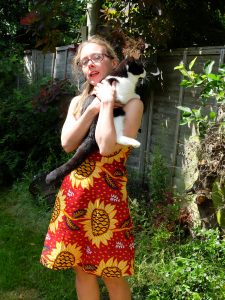 For the wearable muslin I used this Vlisco sunflower print voile. I didn't try too hard to pattern match but was pleased to find that the printed selvage, which I've left slightly visible at the back *on purpose* has given the effect of a sunflower stem running up my back. How fun. I did have to adjust the upper back to remove, oh, about an inch of excess fabric on either side. I made a note to pinch out this excess on the pattern for next time – but see below.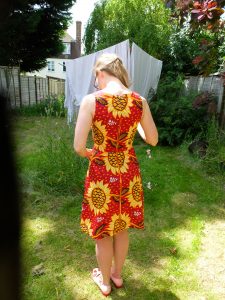 I do like the bodice, especially the neckline, as it's quite flattering on my narrow shoulders. The skirt is cute and kicky and, one last thing, this is an absolute fabric miser. I think I had barely a metre and a half left and if I'd wanted the ruffle, I would have had to do some piecing. I left it off in the end as I thought it would get lost in this bold and busy print. Whilst I'm a big fan of a full skirt, I like this neater silhouette on me.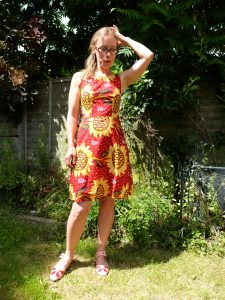 But what's that? Another one?
Unlike a lot of wax print fabrics, which are produced either in the Netherlands, or more frequently China, sheshwe is actually produced in South Africa. I know wax prints are exciting and beautiful but wearing sheshwe feels more special to me because of my family connections there. I hope that the popularity of wax print leads more sewists to seek out different types and styles of fabric from this enormous and beautiful continent.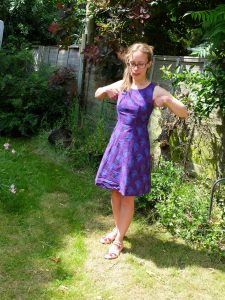 I fell in love with this sheshwe print recently from www.africanfabrics.co.uk – the flowers look like they are glowing against the dark purple background. Once again, there was not enough fabric for a ruffle. Sheshwe is very narrow, just like its West African cousin, (under 90cm after pre-washing) and I only squeezed this dress out by the narrowest of margins. The stuff I used for my daughter's dress was a collection of offcuts given to me by a friend and it wasn't until just now, really, that I quite understood how narrow the fabric is.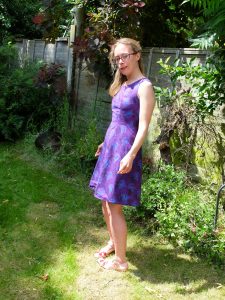 Method wise, this was constructed in exactly the same way as the dress above. Except for one thing: I had originally decided that an exposed metal zip would look brilliant and I spent ages fitting one properly. It did indeed look absolutely brilliant. But when I tried the dress on, it was a complete disaster. Whilst the insertion was fine, I had not managed to remove enough excess around the top back as I had originally planned. This was an utter disgrace.
The zip stuck out at the back and did not look right at all. I think it may be too stiff for the sheshwe, which despite its hardwearing nature, is fairly lightweight. I had to perform emergency surgery and because of the method I'd used for the zip, you can still see the cuts I made to insert it. These have been interfaced and darned with tiny hand stitches, so I don't think they're going anywhere, but it was a terrible shame really. I used an invisible zip, curving outwards from the top to remove the excess fabric (more about this method here) and the end result is much neater. A cock up that spectacular only ever seems to happen with very simple projects, don't you find? Anyway, lesson learned and notes duly made for the next time I make this pattern. And there will be a next time, with ruffle. The darts are also a little *pointy* but I think this will steam out.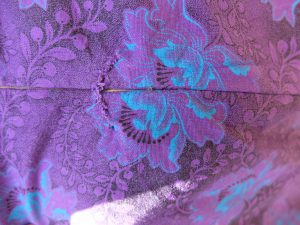 The body and handle of this cotton lends itself well to the A line skirt and fitted bodice, adding flare and structure and making me feel I have two very different dresses that originated from the same pattern. Neither have pockets, a necessity borne out of having very little fabric. This makes me a little sad.