This is how far along the backlog goes… a Christmas dress. I saw this lawn at Croft Mill and thought that it was suitably festive. It has red berries, or maybe baubles, on a darker background and it's very light and floaty, perfect for Flora's wide, pleated circle skirt, without sticking out too much. A fabric with more body, like quilting cotton, sticks out too much for me and puts me in mind of one of those toilet roll covers.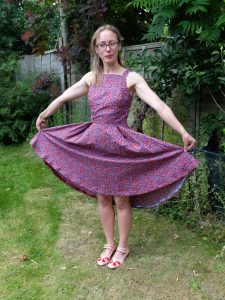 I did remember the last time I made a Flora dress the bodice was a disaster for all sorts of reasons. The fit wasn't brilliant and in order to stop the dress billowing out at the back I just narrowed the back seam, making it too tight in the middle. I had to sit bolt upright the whole time I wore it. I was sure that the tank bodice option would gape around the neck and, generally, I wasn't feeling very optimistic until I completed a muslin and – yes! The neckline was fine.
The shoulder straps represent the only really tricky part of the bodice. If I had been sensible I would have shaved off a smidge from the lining fabric pieces to ensure that they did not peek out even a tad. I think they do a weeny bit but the lining fabric (a calico from Ikea, I'm ashamed to admit) is pretty much the same as my skin colour so I think I get away with it.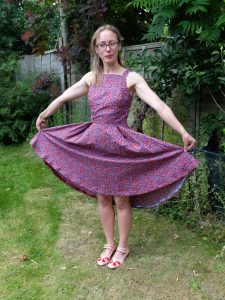 I chose the high-low skirt option and for some reason thought that a ribbon bound hem would be a fantastic idea as it can be seen from the front. It would have been a great idea had I not run out of ribbon halfway through and had to use, well, several sorts of ribbon to complete the hem to a tight deadline.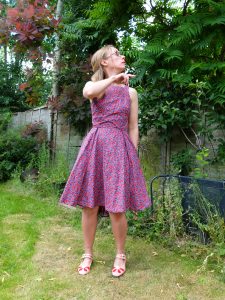 The only real alteration I made was adding in-seam pockets. They nestle nicely in Flora's ample skirts. Having had all my valuables removed from my handbag at one Christmas party a few years ago, I would prefer to keep my nearest and dearest items in my pocketses. There is something liberating about pockets generally. I have been experimenting with carrying a very small bag and, at times, not carrying a bag at all. Suddenly one feels less tied down. And naturally, if one is at a party with lots of fizzy wine, having things like your Oyster card and phone physically on your person at all times ensures that you return home with these items.