A disclaimer: I have loads of posts in the pipeline but I have needed photos done and that's really the only thing blocking the pipe. It never seems that I have everything ready, pressed, some decent light and a willing photographer, all at the same time. Something to address for New Year I guess. That and backstitching the end of my invisible zips, which I never seem to do and which always bites me on the backside eventually.
I bought this Cynthia Rowley 2215 during a half price sale. Seems to be where I get all my patterns from these days. I thought it looked very slightly *fashion* in a way that I might just about be able to cope with, and it also has pockets, which I can definitely get behind.
I took the photos at Parliament Hill playground in Hampstead Heath, and from now on I shall pretend that I live close by lol. I intended to have all my makes photographed at once but it was really rather cold and one session with my coat off was quite enough, thank you.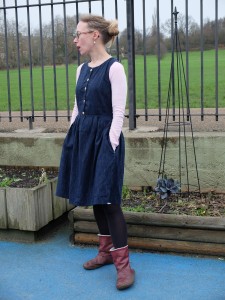 However, the pattern was just gathering fluff for some time until serendipity visited. I'd ordered some Japanese print fabric from Plush Addict, with the idea of making matching, contrasting frocks for the girl and her cousin. I ordered two lengths from the Hakama collection and when the package arrived, I was confused to find one length of the Hakama, and another length of what I can only describe as the nicest material I've ever seen. I think it must have been a coding error on the website or something. It's called Kaiko.
Kaiko is slightly textured, barkcloth I guess, with what looks like slubs but which is actually a print. It's very light and airy with a little bit of structure and I thought it would be perfect for this dress. So I didn't send it back.
One disadvantage is that it's got a very loose weave and is quite translucent, so I had to somehow add a skirt lining to a frock that only has guidance for a bodice lining, or forever have to wear a flipping slip which I could frankly do without. I used some nice rayon lining that I bought from Crescent Trading. I paid the extra for the posh stuff like what the swanky tailors use and I think it's probably worth it. Adding the lining, particularly when pockets are involved, was something of a puzzle but I sort of kind of managed. I like the way the lining adds so much substance and warmth to an otherwise very lightweight fabric.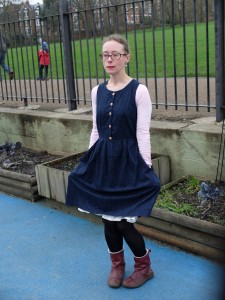 The pleats are meant to be uneven, because it's fashion, darling. I used wooden buttons that I bought from Amazon, and again deliberately mismatched them as I thought it might add interest to something that's otherwise quite plain. The buttons, incidentally, are decorative and the dress does up with a zip. I had a mutinous thought when I was instructed to add buttonholes that actually I could say sod it and just sew the placket together and bung buttons on top, but in the end I thought that might look a bit crap, so I didn't. I guess if you're nursing, the functional buttons would come in rather handy.
I am not quite sure about the look of the neckline when worn without a collar beneath – I wonder if I look somewhat like Andy Pandy. Then again, Colette have just brought out the Phoebe, which has a similar sort of button front option, so maybe it's "in."
Overall the dress is really comfortable. It's far less fitted than the kind of thing I usually go for, and I didn't give in to the temptation to winch in the bodice. This is meant to be "designer" after all and rather like adding salt to a Michelin starred chef's dish, perhaps it's better to taste it first. I also suspect that the lightweight fabric would wrinkle and hang in a weird way if forced into something more structured.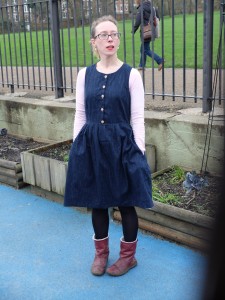 I'm really happy with how this accident turned out.