What I seem to have been doing a lot of recently is repair and alteration.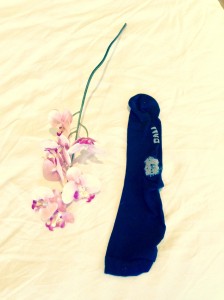 It started off fairly low key – hemming up a pair of polyester slacks for my mother in law. She sat with me and had tea while I did the job, asking why I wasn't "double tacking" the hem before stitching it, and why was I using the machine for such a little job? It is funny how everyone has their own little methods for doing things. I don't usually tack a hem that can be pinned, let alone tack it twice… The original hems had just been turned up and stitched down so I thought I'd do the same. I overlocked the raw edges, which she was very impressed by – she was also amazed by the speed of my machine. I promptly got another pair of what she, originally from South Africa, refers to as "pants" as a reward for a job well done.
I was then given my father in law's cashmere jumper, which had come apart at the neck binding. I thought of re-grafting it using Kitchener stitch, but eventually went with simply overlocking the join with a very narrow stitch, and steaming the result. He pronounced himself chuffed. Then my brother in law deposited his ripped shirt with me.
He had fallen off his desk and managed to slash his shirt, his trousers and indeed flesh, in an apparent attempt to disable the smoke alarm in his office. The trousers I refused, as the tear went into the waistband and behind the pocket. I figured that a professional mender might also make a fist of it, but at least he'd have some recourse. The shirt I took. I used this tutorial but it was a little more tricky as the tear is L shaped.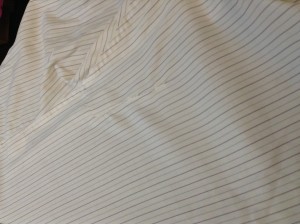 Next on the list were socks to darn. I know socks are very cheap these days but really, I hate the idea of disposable clothing and anyway, the socks I have are quite nice, bamboo viscose ones, and worth repairing. The really really cheap ones don't take a darn well as they just aren't strong enough.
I'm pretty much a self taught darner, mostly gathering how it's done from my old copy of What Katy Did, since Katy always seems to be darning stockings and the like. Basically you weave the mending wool over and under the hole or weak point, reconstructing fabric with your needle.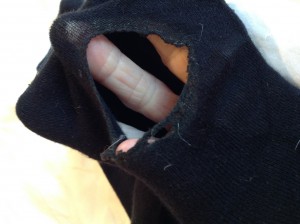 You'll need these things. The pink stuff is 100% 4 ply wool from a failed jumper project which I often use if the darn doesn't need to match. The grey stuff is what you buy from John Lewis or whatever, and the mushroom thing helps stretch out the sock.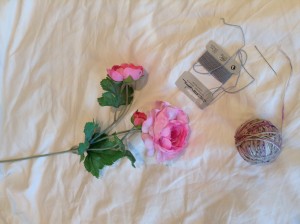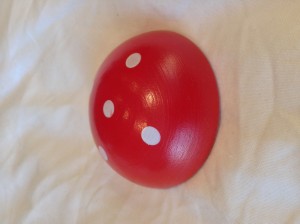 So when you've done, it looks something like this: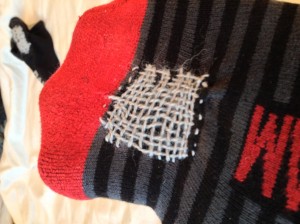 With socks, I find that wool mending felts together in wear, forming a nice patch like this one.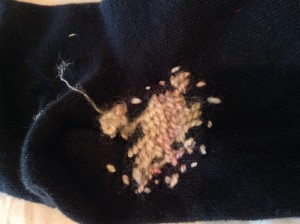 I also merrily repaired two rips that have appeared in my dresses. Fortunately they're lost in skirt gathers, as neither is particularly neat.
This is the first one, a weird triangular tear that's very small and fiddly.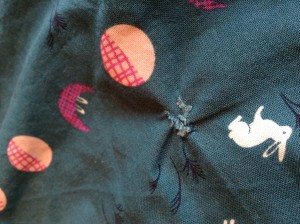 The other is a tiny hole in rayon challis, which frays like buggery so I wanted to get in there before it grew.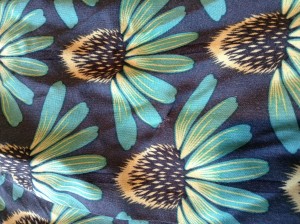 Phew. Of course come the Singularity, these kind of skills, even to my rubbish standard, will be in short supply. So I'll be OK, I guess..