After a few goes at the Music Box Pinafore (or "jumper" if you really must), here is the girl in an actual school pinafore.
I bought a bit of viscose/poly blend grey twill from Crescent Trading. Apparently this is the stuff that posh school uniform shops use. It presses wonderfully (so I hear, since I have not bothered) and was a sinch to sew. It was also £5 a metre.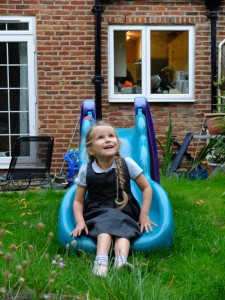 On the inside is what I will now modestly refer to as my signature finish – a contrast lining in Kokka kitten print, bought in Barcelona.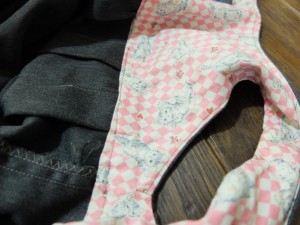 She does tend to show people the inside of this, which isn't really surprising.
I topstitched the pleats a little way down. This was partly to make pressing easier, but also because I'd seen topstitched pleats as a detail on a couple of London Fashion Week catwalk shows. Oh, yes, finger definitely on the pulse here.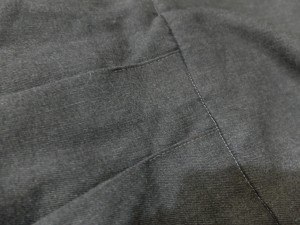 It does up the back with these shell buttons. As it turns out, one can wear the dress back to front on PE days, and fasten it without assistance.