I went a bit mad on the New Look half price pattern sale: I bought a cape (to follow), some other bits, and this mock-wrap jersey frock – 6301.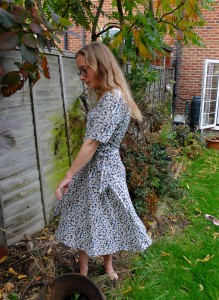 As if by design, the cosmos then sent to me 3 metres of this Liberty viscose jersey, courtesy of the Ray-Stitch sale. It was £24, a steal imo. This is a really nice, lightweight jersey with plenty of drape and swirl and as far as I can tell, is not transparent although I would not choose to wear black pants underneath.
Wrap dresses are a minefield for the petite, as the best tied knots have a tendency to work their way loose, and without plenty of frontage, you end up revealing more than you might wish. And not in a cute way either. A glimpse of bra, fine, but simply showing all your bra is more weird than sexy unless you're Rhianna or someone. But I liked that I could control the wrap over the bodice here, and then fix it.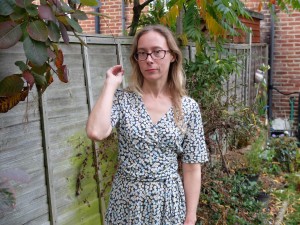 It took a couple of goes to ensure that I wouldn't be constantly re-adjusting myself, but other than that, this was a very quick make. The waist is reinforced with elastic in a little channel, which was the only really tricky bit. I don't have an overlocker, so it was all done on machine, finished with a twin needle.
I've tried making a Colette Moneta, but found it to be a bit boring. I think I need some more interest on the bodice when using jersey – again, I find that a Colette pattern is brilliant on curvy, stacked women, but a damp dishrag on me. So I was pleased finally to have the "secret pyjamas" that I've been craving (though I'm not above wearing pyjamas in public..).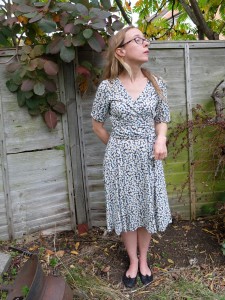 I like the swirly skirt very much, but I might shorten it a bit more, maybe. I also note that if one were nursing, which I most emphatically am not, this dress would be really great – you might need to make a couple of minor adjustments to stop it stretching out over a day at the very most.