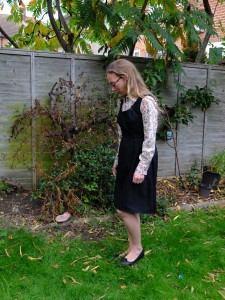 Rather like my dahlias in the garden, this hasn't really been my season for
Colette's Dahlia. Apart from the festive dress I made last year, they've all been a
bit of a disaster.
The only functionally wearable one I have, in an odd sort of wool blend stuff which was cheap due to a weaving flaw, from Croft Mill, was OK and I liked the skirt, but the excessive amount of space in the bodice was annoying and I wasn't really getting much wear out of it. I still had a fair bit of the fabric left over and now and then, wondered about fixing the whole business.
So one evening I set up a load of Father Teds to watch and ripped the dress to bits. Well actually I removed the bodice and side zip and replaced it with the bodice from this Cynthia Rowley 1873 pattern which came free with a magazine. A Frankendress indeed – a top and bottom that were never destined for each other, welded together for life. Mwahahaha.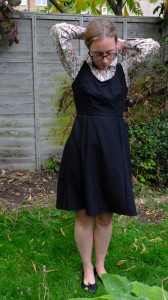 This bodice differs from the Dahlia in a couple of ways. It has a lower neckline and is sleeveless, rather than having the raglan sleeves which are the source of all my woes. I can now wear the dress over a shirt for work. I lined it with some Vlisco voile. This wool blend fabric is very warm, quite spongy and very tough to press. As a result, I used the fine voile to try to reduce the bulk. The front of the bodice does roll down a little, I failed to trim the thick seams properly here, so I do need to open it up and ferret around to fix this.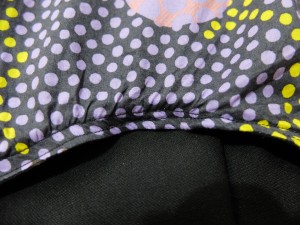 I just filleted out a bit of ease from the back to allow for a side zip, and pulled
and swore at it until the bodice more or less lined up with the skirt. Of course it
was never meant to and it complained a little, but the end result is a frankendress
(maybe Frankendress's monster?) I will actually wear without apologising for how badly it turned out. It's nice and warm for the winter too.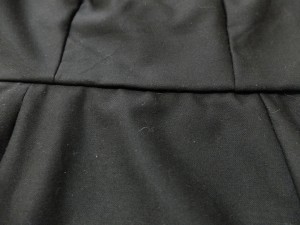 Here it's matched with a butterick 5526 shirt made from more woebegone fabric. It's probably Liberty, maybe, definitely lawn and definitely glossy and soft.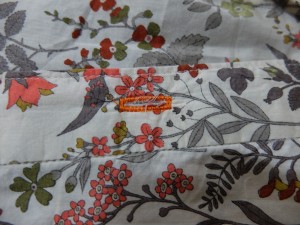 It also has several printing flaws (like something got stuck under the roller) and the nice man at Crescent Trading let me have the rest of the roll (2 and a bit metres) for £10. The underside of the collar is silk noil and I was able to cut round the problematic areas. I French seamed the whole thing too.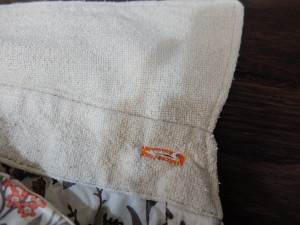 I altered this a bit from the last iteration, by removing about 2cm from the centre back. The result (though it can't be seen here) is a more streamlined shirt.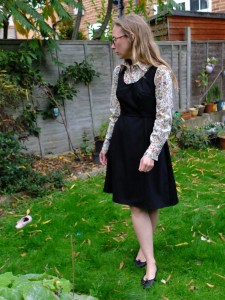 So, a new outfit from some disregarded bits and bobs. Isn't that what it's all about?