This vibrant sunflower print Vlisco (from the For You range) voile was what I'd chosen at Empire Textiles over the hummingbird and pineapple stuff.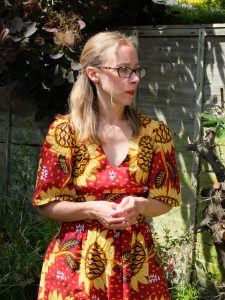 I do like sunflowers and have had half an eye out for sunflower fabric for a while. But it took a long time for me to dare to make it up into something. This is mostly because it is red. A long time ago I made an orange Sorbetto top from some lovely hand printed cotton I bought from Cloth House but Nick really hated it. There was something about the colour that really did not suit me apparently and off the top went to the great charity shop in the sky.
But look, I wanted to de-stash and also use this Cynthia Rowley 1801 which I bought in yet another half price sale. I thought I could get away without doing a muslin because all the shaping in this dress comes from gathers, rather than darts, so it would be relatively straightforward to do any alterations simply by tightening or loosening the gathers as needed.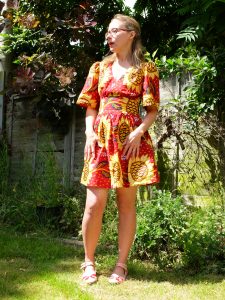 This was a fun project with a few unusual touches, like the V-neckline facing. Rather than hanging loose, the lower edge of the facing is secured in the upper waistband, giving more stability to the deep V and preventing it from rolling outwards.
I left off the pocket from the side with the zipper. I'm sorry. I was keen to get it finished and figured I could get away with just one pocket. Nobody else will know!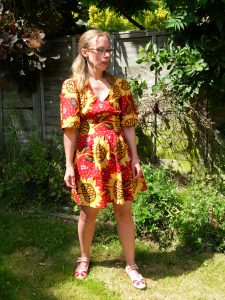 I like the flouncy sleeves and overall appearance. It's a little bit retro I think. I also think I cut too much off the skirt when I hemmed it. It's a little shorter than I usually have my hems but never mind.
Lastly, I was slightly worried that the voile would be too translucent but I hoped that the colour and print would be enough to off set this. It seems to be. As long as I don't stand in front of a very bright light, I should be OK. The fabric is wonderfully light. I keep thinking I will wear it on a hot day when I'm on holiday, but then I remember we're going on holiday to Norway this year…